David and I love Greek food...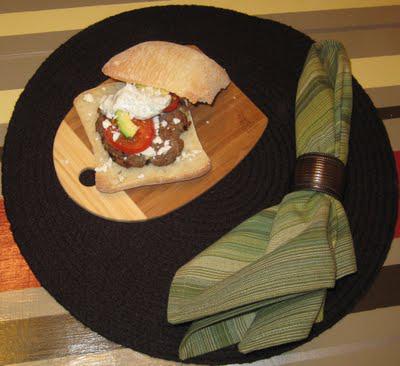 Greek Burger


We love it so much that we often keep feta and tzatziki sauce in the fridge just in case we want to make gyros or something. I had gyro meat in the freezer but I didn't really feel like making exactly that today. So I decided to make Greek burgers instead. We had almost all of the ingredients in the house except the ciabatta rolls. David had to go pick those up. I actually told him to pick up regular hamburger buns but when he got to the store he saw the ciabatta and decided they sounded much better. I have to agree. They were an excellent choice.
Refreshing Greek Burger with Feta and Tzatziki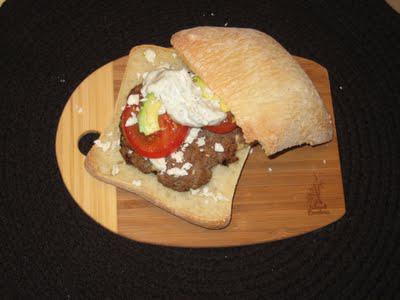 Yummmm!
Mixing feta into the meat makes these burgers incredibly tasty and the refreshing Tzatziki sauce is a wonderful alternative to other burger sauces. You can cook the burgers on a grill or in a pan on the stove. They are excellent either way.
Ingredients:
1 lb. ground beef
1/2 cup feta, crumbled and divided
1 tbsp worcestershire
1 tbsp of your favorite burger seasoning
Salt and pepper to taste
1 container of readymade Tzatziki sauce
1 ripe tomato
1 ripe avocado
4 ciabatta rolls
To make the burgers: combine the beef, ¼ cup of feta, Worcestershire, burger seasoning, salt, and pepper in a large mixing bowl. Use your hands to combine the ingredients. Form into four patties. Fry the burgers in a pan on the stove or grill them on a grill until they are cooked to your desired level of doneness.
Serve on the ciabatta rolls with the remaining crumbled feta, tomato, avocado, and tzatziki. You can use any other burger topping you desire. Olives make a nice side to the burgers. I like to use store bought tzatziki sauce because it's fast and it tastes good. Wal-Mart and Target both sell some form of the sauce.
Serves 4.
Enjoy!
Kristine Duffey