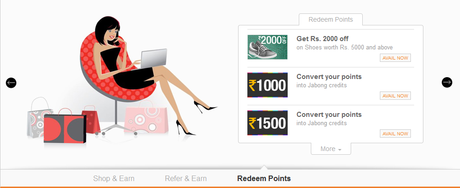 Jabong started a New Referral Program. In this Program You Will Get Rs.100 per refer (You will Get 100 points for Every Referral Friends) 100 points = Rs.100. To get this offer please follow given below mention some easy steps.
First of all go to this link and sign in or signup on Jabong. 

Now Go to Jabong Reward .

Click on Refer & Earn (See Below Screenshot).

Now Copy Your Referral Link & Share it.

When You Successfully Refer 5 Friends, then You Can transfer your 500 points (5 X 100) into your Jabong Credit Account.
Must Read :-
Download App And Get Instant Rs.50 Snapdeal Cash In Your Account
Download GoIbibo App And Get 1000 INR - Limited Period Offer
{Contest} ICC CWC Win Samsung Note 4, Honor 6 And Much More
Screenshot:-
r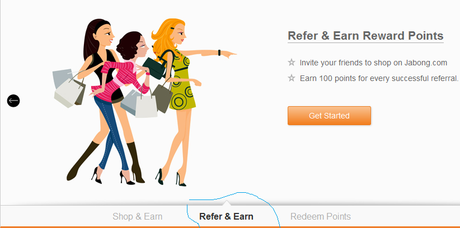 Redeem Points As :-
Credits   Description
50   Get Rs.50 OFF on Premium Brands for Men  
 
50   Get Rs.50 OFF on Premium Brands for Women  
 
50   Get Rs.50 OFF on Premium Brands  
 
100   Get 10% off on the purchase from United Colors of  Benetton  
 
100   Rs. 300 Off  
 
100   Flat 40% Off  
 
100   Flat 30% Off  
 
100   25% Off on Home Decor  
 
100   Get Rs.100 OFF on Premium Brands for Women  
 
100   Get Rs.100 OFF on Premium Brands  
 
100   Get 15% off on purchase of Phosphorus  
 
100   Get 15% off on purchase of Miss Bennett  
 
200   Get 25% off on purchase of Andrew Hill  
 
200   Get 25% off on purchase of Sangria  
 
300   Rs. 500 Off  
 
300   Get Rs.300 OFF on Premium Brands for Women  
 
300   Get Rs.300 OFF on Premium Brands for Men  
 
300   Get Rs.300 OFF on Premium Brands  
 
500   Get Rs. 1000 off on Shoes worth Rs. 3299 and above  
 
500   Convert your Points to Jabong credits & Shop away  
 
1000   Convert your Points to Jabong credits & Shop away  
 
1000   Get Rs. 2000 off on Shoes worth Rs. 5000 and above  
 
1500   Convert your Points to Jabong credits & Shop away