I'm not sure if you have seen this in the news or not, but J.J. Watt of the Houston Texans leaped to new heights (literally!) back in April of this year by breaking his personal record in the "box jump" of 5 feet, 1 inch. He was wearing Reebok's ZPump Fusion shoes (J.J. is the brand's newest ambassador).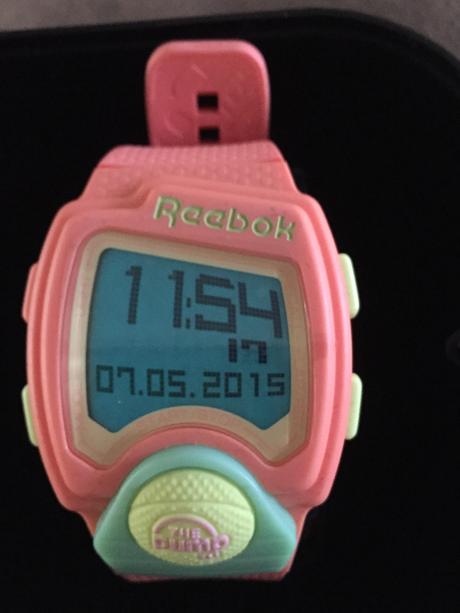 And he did all in a matter of seconds - yes, it was timed it with the Reebok Pump Watch.
If you think the Pump shoes are magic, check out the watches! Reebok Pump watches retail for $129.95 at Macy's and feature the iconic pump button (press it to change up to four different font sizes), as well as lap and recall mode and memory.
The 1990's are back with this throwback sport watch from Reebok's Pump collection. The watch comes in several colors that I've seen. I looked in the Men's Watches on Macy's website and found a black watch with red details and a white watch with navy blue details. In the Women's Watches on Macy's website, I found a violet and orchid watch with white details and a coral and mint watch with yellow details.
Here are a couple of pictures of MY new Reebok Pump Watch to help you decide you have to get one for yourself!

All of the watches have the same specifications:
* Polyurethane strap
* Square case, 42mm
* Digital dial with positive display, black digits, stopwatch, laps, recall and alarm
* Quartz movement
* Water resistant to 50 meters
* Two-year limited warranty
You know what they say: If the shoe fits, get the matching watch! This watch is available at Macy's, so I'd suggest you head over there and pick up a great pair of kicks and a watch to match!!
It would be great if you would stay connected with me!! You can follow me on Twitter @DebiL1611, like me on Facebook at 2014 and Beyond, circle me on Google+, follow me on Tumblr, Instagram and Bloglovin', subscribe on YouTube, or connect with me on LinkedIn and Pinterest.
Please make sure to visit my homepage and subscribe to my blog for more great posts on running, fitness and lifestyle topics as well as food, product, music and book reviews, and more!