It's cold! 
So when it's cold and dreary what's better than stick to your ribs braised meat? Not much I'd say. 
I went to the store today with my heart set on buying short ribs. I was on a mission. I arrive at the meat department and the shelf was bare! Nooooo! I must make my beloved short ribs! There happened to be one of the workers standing there and I inquired about the ribs...he had just added them to his prep list and they would be ready in a few minutes. Perfect!
Ten minutes later he handed me four packages of short ribs to pick whichever ones tickled my fancy. I walked away with three packages of fresh cut, meaty short ribs! What service! The lesson? Don't be afraid to speak up and ask for what you're looking for. Even if it's not on the shelf or in the case, they may have it and can cut it fresh for you. 
Now I know short ribs can be time consuming and mildly intimidating, but honestly when you break it down by steps it's super easy. The time consuming part you can't really help because these babies need time to cook. Time is the only thing that will let them tenderize and get that luscious, meaty goodness. Trust me though, it's worth the effort and the wait!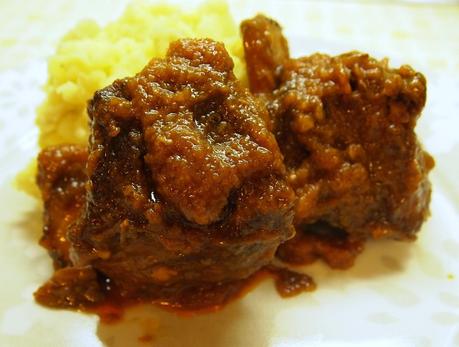 Red Wine & Sweet Chili Braised Short Ribs
12 Bone-In Short Ribs
1/2 cup Flour
1 tsp Kosher Salt
1/2 tsp Ground Black Pepper
1 Tbsp Olive Oil
4 Celery Stalks, large chop
3 Carrots, peeled, large chop
1 Large White Onion, large chop
3 Large Garlic Cloves, finely chopped
1 (6 oz) Can Tomato Paste
1 (5 oz) Bottle Sweet Thai Chili Sauce
Salt and Pepper to Season
1 Cup Sweet Red Wine
3 Cups Low Sodium Beef Broth
2 Cups Water
1 Fresh Bay Leaf
6 Sprigs Fresh Thyme
1) Place your Dutch Oven or large (oven-safe) pot onto the stove top over medium-high heat. Add the olive oil to the pan and let that heat. You want the pan and oil to be good and hot to sear the short ribs.
2) On a plate combine the flour, kosher salt and pepper. Lightly coat your short ribs on each side with the flour then place into the pot to brown. Brown the short ribs on each side, don't be afraid to let them sit on one side for a couple of minutes so you develop that good brown crust. Once a short rib is brown on all sides remove from the pan and place on a plate. Continue this until you have browned all of your short ribs.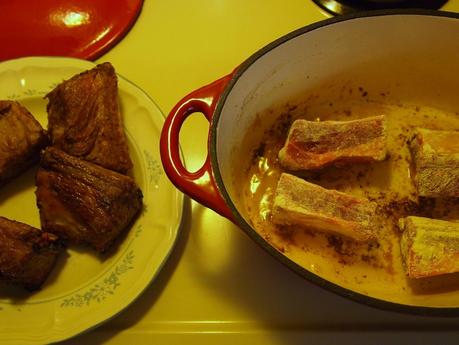 3) Meanwhile, place the celery, carrots and onion into your food processor and grind into almost a paste. Also preheat your oven to 375 degrees F.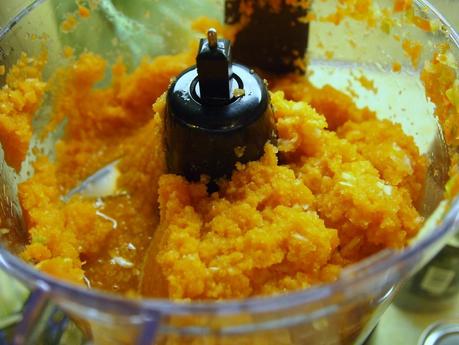 4) Once all of your short ribs have been browned and set aside, there will be a good amount of fat that rendered off from the ribs, drain off all of the fat from the pan leaving only a tablespoon or so in the pan. Add the ground celery, carrot and onion mixture to the pan and let it cook and brown over medium-high heat for about 5 minutes. Be sure to scrape all the brown bits off the bottom of the pan, those bits taste good!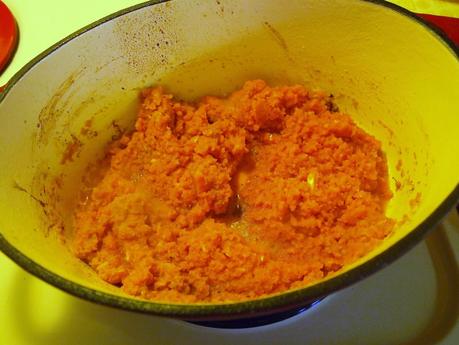 5) Next add in the garlic, tomato paste and chili paste and let cook an additional five minutes.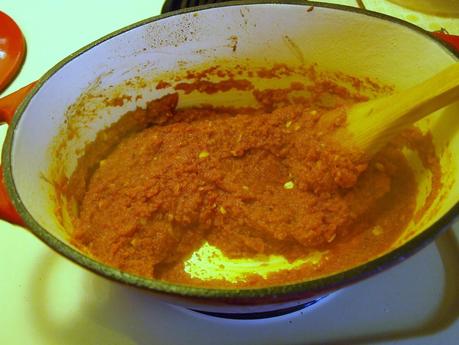 6) Stir in the wine and let cook for about 2 minutes.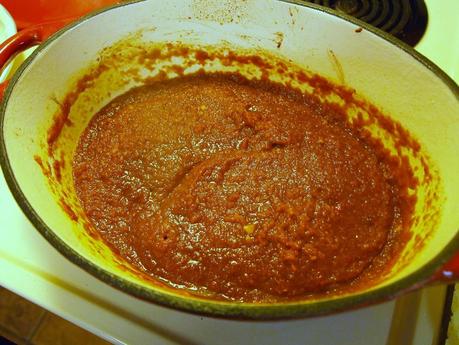 7) Add the beef broth and water and stir until all is combined. Season with salt and pepper to taste.  Yes, taste the cooking liquid! This is what is going to flavor your meat, now's the time to fix it if it needs fixing!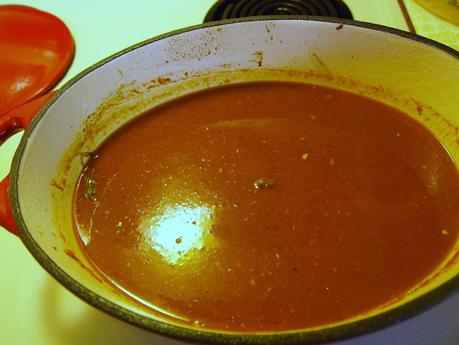 8) Place the short ribs back into the pot with the cooking liquid. Depending on the size of your pan you may of some piece completely covered in liquid and some that stick up a little. This is fine, the goal is to get everything covered at least 3/4 of the way with liquid. Add the bay leaf and thyme sprigs.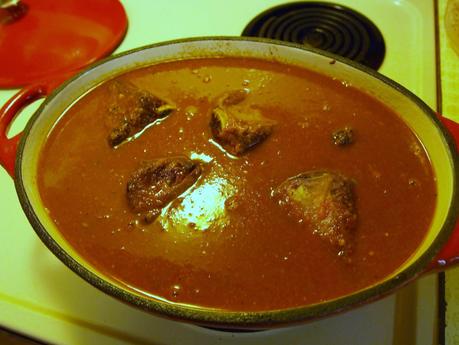 9) Cover the pan and place into the oven and cook for 3 1/2 hours. Then uncover and cook for an additional 30 minutes to let the sauce reduce and get thick and delicious. Halfway through the cooking time be sure to stir the ribs around and if need be you can add extra water if the sauce begins to reduce too much. When they are finished cooking you will have tender, juicy short ribs that will come cleanly off the bone.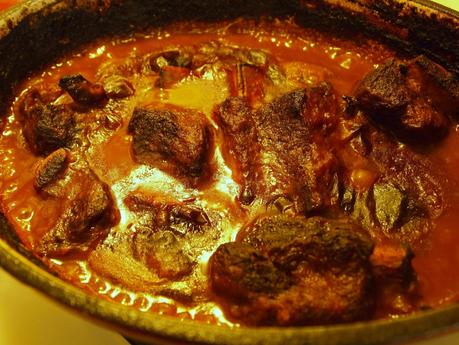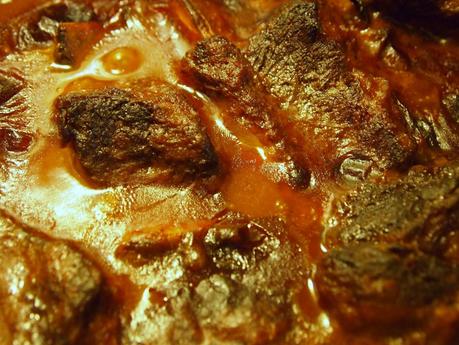 Do you ever watch Chef Anne Burrell? She has this saying, "Brown food tastes good!", she often does it in this meat eating growl, it's really quite amusing. But what she says is true! Brown food does taste good, you want your ribs to be browned well in the beginning and for them to caramelize deliciously while cooking.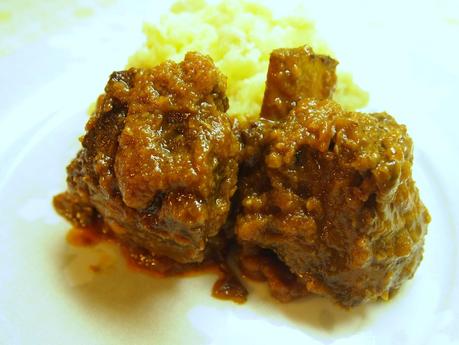 I served these ribs with roasted garlic mashed potatoes. If you don't want mashed potatoes you can do a creamy polenta, risotto, roasted veggies. You need something hearty to go along with the richness of the short ribs.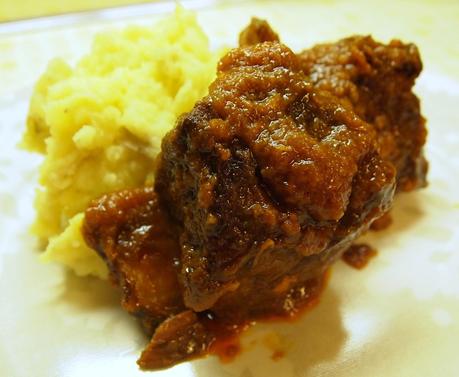 Enjoy!