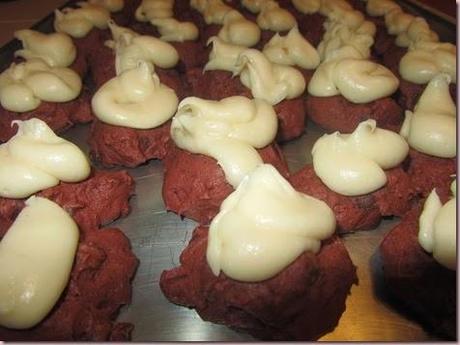 Ciao everyone!,
   My fiancé, Dominick, loves red velvet cake, which I understand, it's chocolaty and usually accompanied by cream, cheese icing.  It's really just chocolate cake with red dye, but still super yummy!  I thought instead of cake, I'd try red velvet cookies, with the icing of course.  I made these for our anniversary last year, before we were engaged along with another cookie that I'll post about soon as well.  These are a very gooey, cakey cookie, so tasty!  I probably could have made the icing look prettier by using a pastry bag and icing tip, but I guess I was in a hurry.  Taste is more important than looks anyway..right?  Ha..oh well.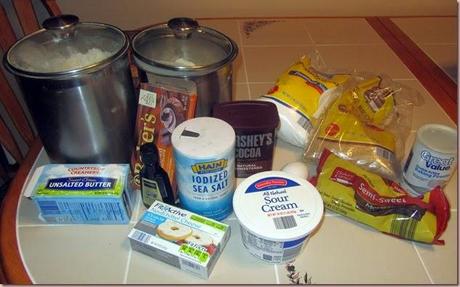 Ingredients:
Cookies:
3 ounces unsweetened chocolate, chopped

1/2 cup butter, softened

2/3 cup brown sugar

1/3 cup white sugar

2 1/4 cups all-purpose flour

Some red food dye gel (Add as much as need for desired shade. Or you can use regular liquid dye but I prefer gel)

1 1/2 teaspoon vanilla extract

1/2 teaspoon baking soda

1/2 teaspoon salt

1 1/4 cup (7-8 ounces) semisweet chocolate chips
Cream Cheese Icing:
4-6 oz (1/2-3/4 package, depending on how much you're going to put on each. I like a lot.) softened cream cheese
1/4 cup of softened butter
1 teaspoon vanilla
pinch of salt
2 cups powdered sugar
Directions:
Preheat your oven to 375 degrees F.
Melt the unsweetened chocolate on a double boiler (smaller pot with the chocolate on top of a large pot of boiling water). Stir it until smooth. Let it cool.
In a large mixing bowl, cream the butter and sugars until light and fluffy. Beat in the egg, food coloring and vanilla. Add cooled chocolate; beat until blended. In another bowl, mix the flour, baking soda and salt.  Add this to the  creamed mixture alternately with sour cream, beating well after each addition. Stir in chocolate chips.
Drop by tablespoonfuls (or small ice cream scooper) 2 in. apart onto parchment paper-lined baking sheets. Bake at 375° for 6-9 minutes or until set. Remove to wire racks to cool completely.  This makes about 5-6 dozen.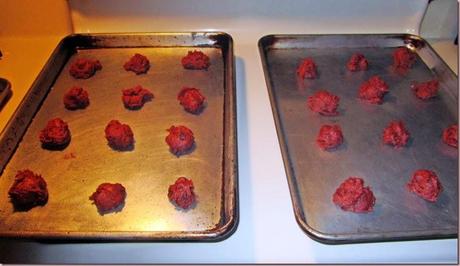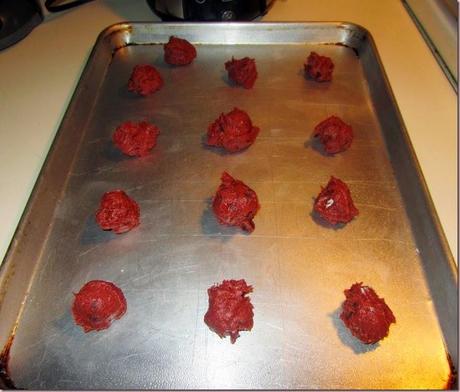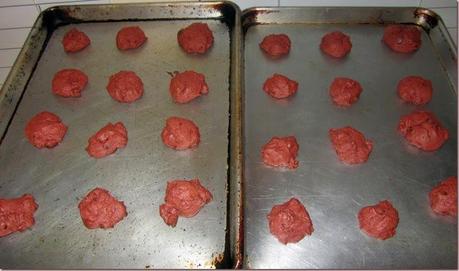 Make your icing: On medium speed, beat together cream cheese, butter, vanilla, and salt until creamy.
Carefully and gradually add powdered sugar, beating until smooth.
Place icing in a zip-lock bag or icing bag fitted with a decorating tip and pipe frosting on top of cooled cookies. Or if you're not in the mood just use a spoon, it'll still be tasty!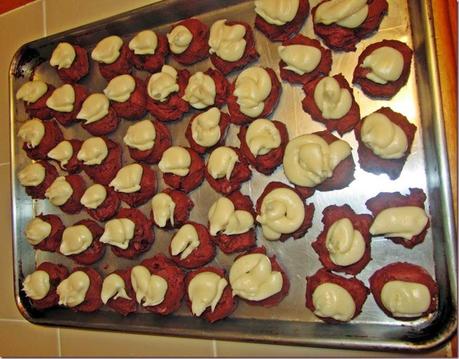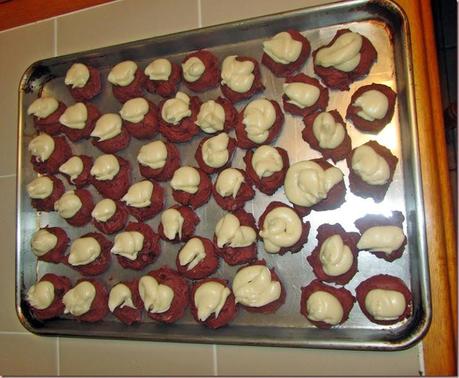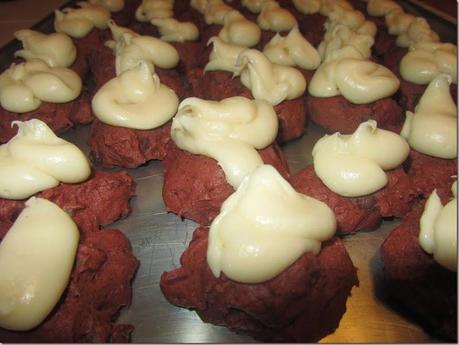 Recipe loosely adapted from  these 2:  http://easybaked.net/2013/08/16/red-velvet-cookies-with-cream-cheese-icing/ and http://www.tasteofhome.com/recipes/frosted-red-velvet-cookies.  
   ♥♥ Xoxo Gabriella