by John Counts / M Live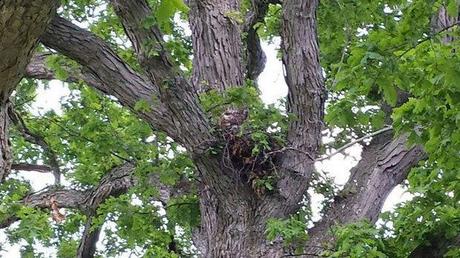 A red-tailed hawk that has taken up residence between the 10th and 18th holes at Huron Hills Golf Course in Ann Arbor swooped down and clawed a golfer in the rough Thursday evening, officials said.
The man suffered scrapes and cuts to his head that drew blood, but he was otherwise all right, according to Doug Kelly, Director of Golf for the city of Ann Arbor.
It's the third instance the hawk, which recently nested in a nearby oak tree, swooped down and made contact with golfers recently, Kelly said. The other two golfers were wearing hats, however.
The hawk is likely protecting her new brood.
"She is either incubating eggs, or she's incubating her young," said Francie Krawcke, head of the raptor program at Ann Arbor's Leslie Science and Nature Center.
Krawcke was at the municipal golf course Friday investigating the nest in order to devise a plan to keep both hawks and golfers safe. Removing the nest is not an option and is, in fact, against both state and federal laws, Krawcke said.
The course has put a sign up in the area alerting golfers of the nest. The science center may even bring its captive red-tail hawk to the golf course on Father's Day to help educate people about the birds.
"The hawks are just defending their nest," Krawcke said about the bird's recent behavior. "Oftentimes they dive-bomb the threat."
The hawk isn't trying to grab people, like the small rodents it snatches up for dinner, just trying to give them a scare, she added.
Krawcke said the best thing golfers can do is not loiter in the area and be aware if they hear the hawk's distinctive scream.
Baby hawks grow rather quickly and Krawcke said the adult hawk's aggressive behavior will likely change in about three weeks.
But golfers will have to beware until then.
"It's just a short period of time," Krawcke said.