Nestled on the rooftop of Centara Grand at CentralWorld Bangkok 55 floors above ground, Red Sky serves as the hotel's bejeweled crown. Aside from the stunning panorama it offers, the urban chic bistro, through its world-class chef, classy ambiance, and well-developed cuisine, is regarded as a gastronomic destination in the City of Angels. Read more…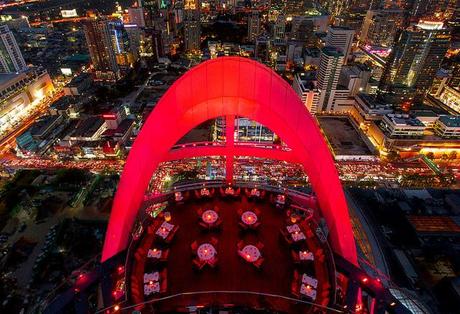 It was past sunset when we arrived at Red Sky; hence, its bright, colorful lights were already up and abuzz, much like the dazzling Bangkok skyline eye-level to us at the time. Jovial chatter hushed the whir of the cool nighttime breeze, thanks to the elegantly-dressed set of expats, Thai yuppies, and discerning travelers—the establishment's main clientele.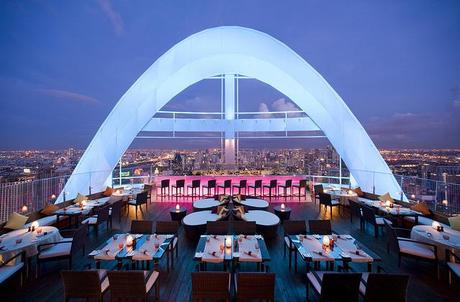 Red Sky is divided among an indoor restaurant and wine bar that follows an alluring red color scheme, an outdoor martini bar with touches of mahogany, and an upper deck with lounge chairs. We were, however, led to one of the best tables in the house—by the edge of the outdoor dining area. In hindsight, it was fortunate that neither of us had altitude sickness.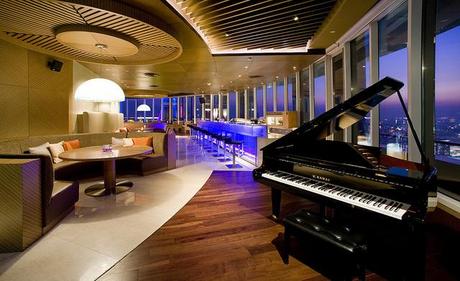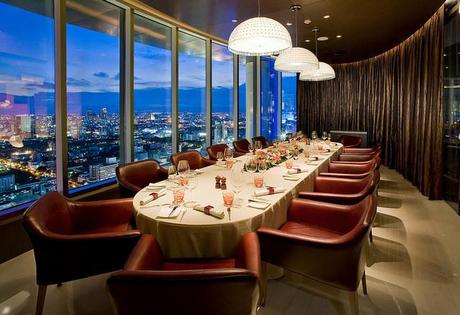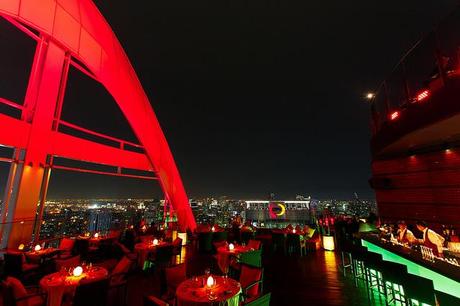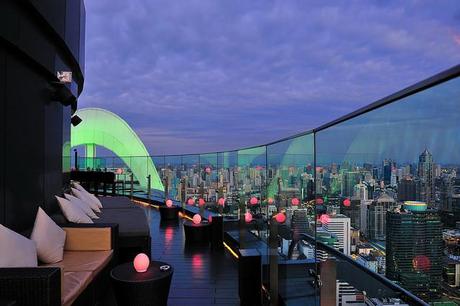 The menu revealed an array of dishes that made our stomachs growl by merely reading the names. Plus, the ingredients they stock, we found, are indubitably refined and extravagant—Sarlat duck foie gras, Oscietre caviar, Nova Scotia lobster, San Daniele ham, Jerusalem artichokes, Kumamoto and Tsarskaya oysters, Atlantic cod, and French duck, among others.
All these are masterfully put together by Chef Hugo Coudurier, a French-Canadian expat with an impressive culinary resume. Classically trained in an academy in Dijon, France, he has cooked for Michelin-starred restaurants, La Ferme De L'Hospital in Bossey, and Guy Savoy Paris and Las Vegas. Clearly, we were in for a treat.
The meal started off with a basket of warm bread that was more than enough for two. On the side was a small tub of fine French beurre, which brand I forgot to note, unfortunately.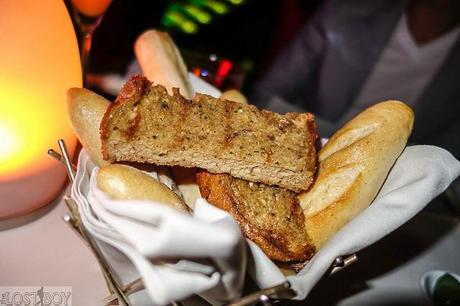 A little later after, with our tummies revved up, came our starter, a beautiful trio of Foie Gras Torchon on toast flavored with truffle vinaigrette and complemented by cognac mixed greens. The foie gras torchon was delightfully delicate and very buttery—two signs, according to gastronomes, that it was prepared and cured at par with intricate standards.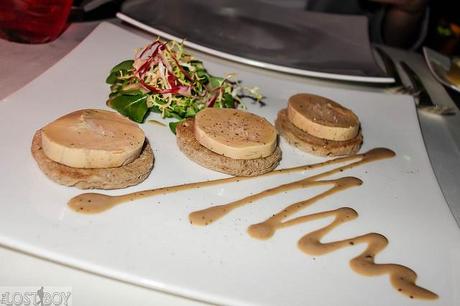 Still reeling in delight over the most foie we've had for some time, we were already served our soups. The Cream of Cep Mushrooms and Hokkaido Lobster Bisque were poured from small white kettles to emphasize the medallion of protein to be immersed in each bowl.
The Cream of Cep Mushroom had a tender slice of pan-seared foie gras that added depth to the earthiness of the porcini mushrooms. The Hokkaido Lobster Bisque, meanwhile, had a nice hunk of lobster that enhanced the already tasty but not too heavy broth. We were pleased that both weren't overpoweringly creamy and seasoned.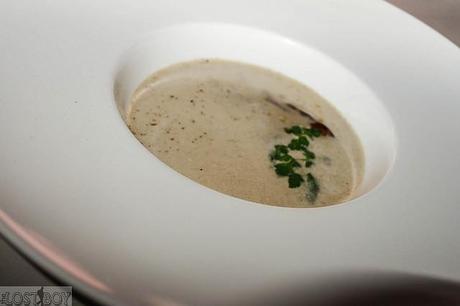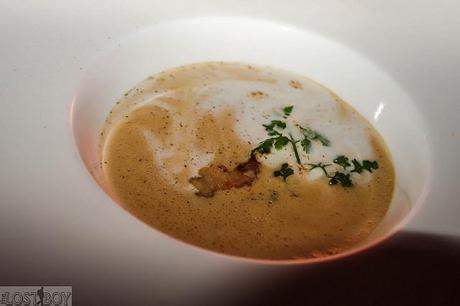 Over good conversations and sips of mocktails came that night's piece de resistance—The Red Sky Surf and Turf Tower. Indulge me as I break down this overwhelming smorgasbord of epicurean entrees: on the top layer were giant Andaman prawns, Alaskan king crab, grilled Phuket lobsters, seared US scallops, and shrimps, while on the bottom were cuts of Wagyu rib-eye and a rack of lamb. Accompanying the assemblage were mashed and fried potatoes, lightly-grilled buttered vegetables and mushrooms, and a bevy of dips and sauces.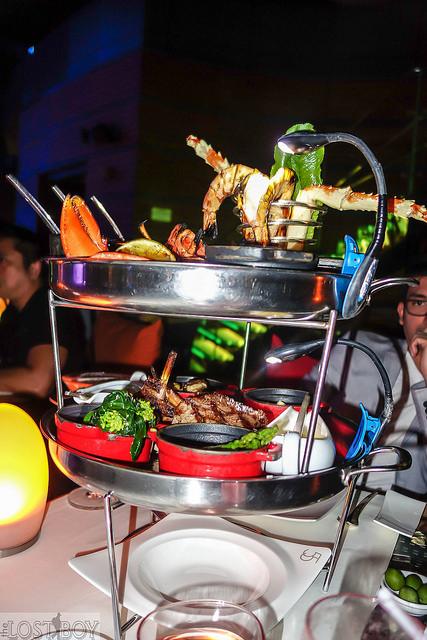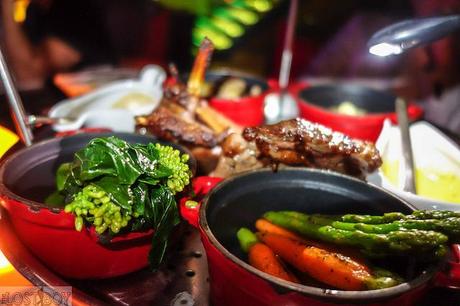 The lobsters, crabs, and prawns were all grilled excellently, in such a way that they retained much of the taste and moisture, while the scallops and shrimps were left lightly seasoned to make way for the dips and sauces—though we found that they also tasted great au naturel.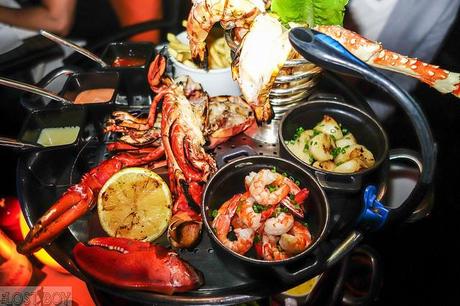 The medium rare meats, on the other hand, were phenomenal. The savory Wagyu rib-eye steaks were succulent and not at all tough to cut, while the rack of lamb, our mutual favorite that night, was perfectly pink inside and flavorful even on its own.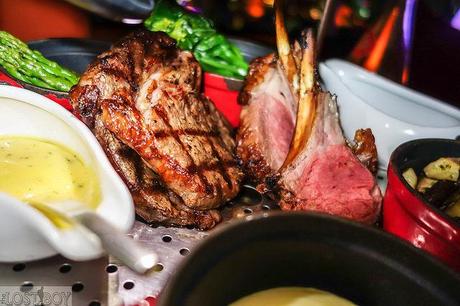 I'd like to make a special mention of the delicious mashed potatoes that was perfectly silky, and the garlic cream sauce that I didn't skimp on at all.
Punctuating our meal on a sweet note were Profiteroles with Warm Chocolate Sauce and a Valrhona Chocolate Fondant. The former had a medley of raspberry ice cream, crème Chantilly, meringue, and blueberries, while the latter was served side-by-side with Amarena cherry ice cream. Both exemplified a pleasant contrast of sweet and tangy that we liked.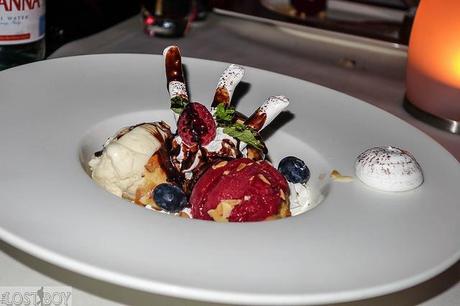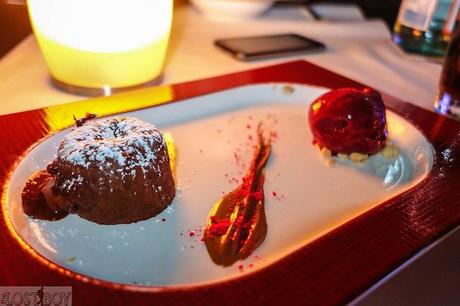 Innovatively executed and exquisitely tasting, our dinner at Red Sky was of the best this year. But the beautiful meal was by no means cheap—actually it ranks up there as one of our most premium-priced dinners. It was quite understandable, however, with what quality ingredients, cookery, and service Red Sky provided; it was definitely worth paying top dollar.
RED SKY
Centara Grand at CentralWorld Bangkok, Rama Road, Pathum Wan, Bangkok, Thailand
Hours: 6:00 PM-1:00 AM daily (dining until 12:00 AM only)
Telephone: +66 2 100 6255
Website: www.centarahotelsresorts.com/redsky