Scarecrow's Garden Log: 18:12:2010: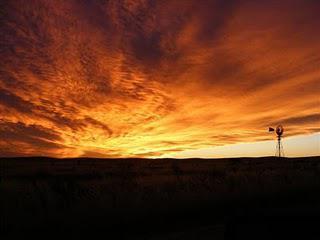 Sunrise during a very early trip to Adelaide this week.
Temperatures this week:
Lowest Min 7C
Lowest Max 21C
Highest Max 31.8C
No Recorded Rainfall


What's the weather been like in the garden?


Quite cool for summer! A fiery red sky on Friday morning didn't result in any recordable rain!


Propagation:




Seeds:


Amaranth Grain

Amaranthus hypochondriacus

Eden Seed
Amaranth Leaf

Amaranthus gangeticus

Eden Seed
Basil Large Sweet Italian

Ocimum basilicum

The Lost Seed
Coriander Cilantro

Coriandrum sativum

Mr Fothergill's Organic Seed
Lettuce Crispmint

Lactuca sativa

Diggers Club
Lettuce Marvel of 4 Seasons

Lactuca sativa

Green Harvest
Marigold Oranges and Lemons

Tagetes patula

Grower's Pride
Nasturtiums

Tropaeolum majus

DT Brown
Pumpkin Lady Godiva

Cucurbita pepo

The Lost Seed
Rocket

Eruca sativa

DT Brown Organic
Silverbeet Green Silver

Beta vulgaris

DT Brown Organic
Silverbeet Rainbow Mix

Beta vulgaris

4Seasons Seeds
Zucchini Cocozelle

Cucurbita pepo

The Lost Seed
Bullock Bush

Heterodendrum oleifolium syn. Alectryon oleifolium




Trees For Life Seeds:


Wallowa

Acacic calamifolia


Red Mallee

Eucalyptus oleosa


Summer Red Mallee

Eucalyptus socialis




Planting out:


Currybush
California Poppies
Lavender
Sage Purple
Sage Common
Thyme Common
Thyme Lemon
Thyme Russian
New Zealand Spinach
Around the base of my Tank Bed at the Community Garden


In the Garden This week: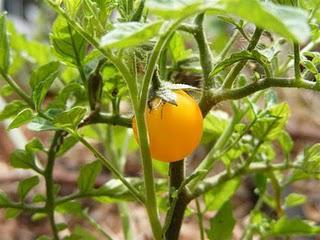 First of the Tomatoes are ripening.
This is an Ida Gold bush cherry tomato!
The Locusts have arrived in greater numbers and bounce off the shade covers. Local birds are having a great feast but The Black Ninja has given up chasing them.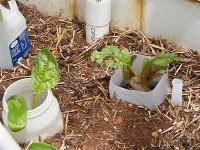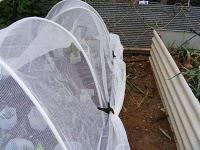 They have been attacking the new seedling Silverbeet so I've netted that bed using some Vege Net from Green Harvest.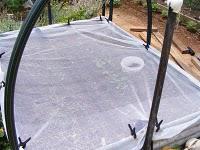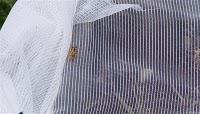 I was sure I'd eliminated all ground based pests from the new carrot planting in Bed 1 but the new seedlings were slowly disappearing!! I suspected locusts were the culprits and after netting that bed I see I was right.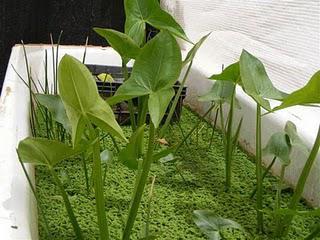 Safe from locust attack in the Water Garden Shade House
the Duck Potatoes, Water Chestnuts
and Golden Taro at the back.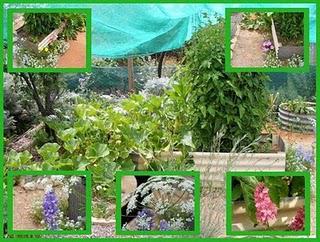 The plants at the base of Bed 6 are flowering
and attracting loads of helpful bugs!!


At The Community Garden:


Everything has grown well. Another two tank beds have been planted and are awaiting their shade/wind protection.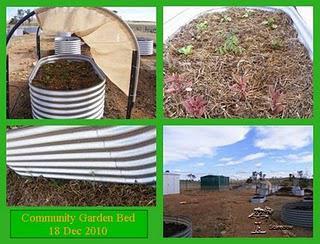 On Tuesday evening I planted a few tough herbs around the base of the tank to make use of any overflow from the wicking system. The soil has been supplemented with manure, raised at the edges and the plants have been mulched with peastraw.


Weekly Harvest Tally:


Doesn't include Greens fed to the chooks on a daily basis or herbs picked for use in the kitchen for cooking or tea making.
Onions Red***294g
Onion Stuttgart***120g
Parsley***25g
Tomato Ida Gold***30g
Tomato Kotlas***198g

The first tomatoes are ripening!!!


Zucchini(?)***585g
Loganberries***320g
Strawberries***191g


Eggs


16 From the 5 Farmyard Ferals
12 From the 3 Barnevelders
17 From the 5 Faverolles
To see how the various Garden areas fit on our half acre block check out the newest Map of our place HERE