I've recently started experimenting with my make-up and the one thing which always gets people talking is when I am feeling bold and put red lipstick on.  I choose to wear it because quite simply, red is my favorite color.  But I'll also admit, it gives me quite a confidence boost as well.
Historically, red lips have largely been seen as a stamp of immorality; something reserved for "women of the night".  It wasn't until the Golden Age of Hollywood and the likes of Veronica Lake, Jean Harlow and Marilyn Monroe that a scarlet pout became aspirational.  Sexy and sassy rather than trashy.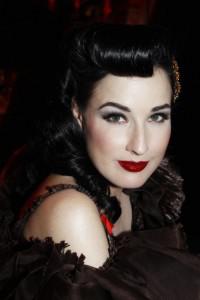 Nowadays, I think it gets a mixed reception. Gwen Stefani and Dita Von Teese are two great examples of strong women who are devoted to red lips and they look gorgeous for it.  But most of my friends will say that they don't have the confidence to pull it off.  It's a bit of a chicken and egg situation.  I find that just the act of putting on a bold lipstick color is empowering – but in the same way that it can be hard to wear a short, sexy dress, it requires a leap of faith in the first place.
Of course, it's not a color which suits everyone.  You need the right skin tone and hair color – and more often than not, a sassy outfit to match.  But if you've got all this and it's confidence holding you back, try and take that leap of faith.  I promise, you will be rewarded with an instant confidence boost!