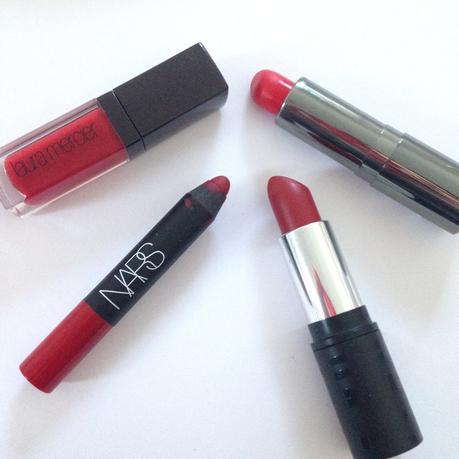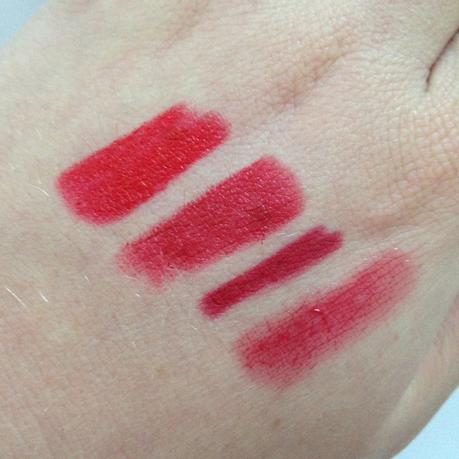 I used to be terrified of wearing a red lip thinking it would draw too much attention but as I have got older and care less about what other people think I have grown confidence in wearing a red lip.
I thought I would share with you some of my favorite red lipsticks/glosses that I always rely on.
For those of you who like I was a little weary of a red lip the Laura Mercier Lip Glace in Poppy is a great product to try. It is quite a pigmented gloss but isn't too bold and the fact that it is a gloss makes it more sheer and easy to wear. The tone of the red isn't too warm or cool so would suit most skin tones too.
A recent discovery of mine and probably my new favorite is the Nars Velvet Matte Lip Pencil in Cruella. This is a slight cool toned red that is completely matte, once applied it takes a lot for it to wear off though the only downside to that is it can be quite drying. That aside I adore this lip pencil, it easy to apply and I think the tone is perfect for me. Dare I say it that I think this is 'my red'.
A more budget friendly option is Seventeens Stay Pout Lipstick in Infared. This is more of a warm red with a satin finish. This is such a good quality lipstick for the price, I have a full review of it here.
Last but not least is the Micro Bubble Lipstick by Daniel Sandler which is probably one of the first red lipsticks I fell in love with. This is the brightest red out of the four mentioned and again is a satin finish. It feels really comfortable on the lips and stays put most of the day. This is more of red for when you are feeling a bit braver though as it is bright.
I would love to know what your favorite red lip is? Do you find red lips a bit daunting?