RED FANS CAN WIN FLYAWAY TRIP TO SEE BAND LIVE
"Sever" From Upcoming Album, Declaration,
Is Featured On SiriusXM Octane, hardDrive XL, Music Choice,
Spotify Playlists With 2.2+ Million Followers

GRAMMY® nominated, RIAA Certified Gold-selling rock band RED has teamed with Tunespeak to offer fans the chance to win multiple prizes, including a grand prize flyaway trip for two to see the band live in concert. Touring in support of its seventh studio album, Declaration, releasing April 10 and available for pre-add / pre-save now at https://ffm.to/2y3kok, RED is currently on the 42-date Winter Jam arena tour across the USA that runs through March followed by a 20+city, 10-country tour of Europe plus four major markets in Russia (www.thebandred.com/tour-dates).
Offering prizes in four of these countries, RED's grand prize winner from the USA will receive a trip for two, including airfare, lodging and VIP passes to see the band at a major US rock festival to be announced. RED's Tunespeak grand prize winner from the UK, France or Germany will receive prizes including two tickets and VIP passes to any of band's shows in these countries.
There are also multiple winners who will receive prizes like autographed guitars, tour tickets and handwritten and signed lyric sheets from the band. Fans can register for the prizes at Tunespeak through March 13.
RED's third single from Declaration, "Sever," joins the Loudwire-premiered lead single "The Evening Hate" and follow-up "From The Ashes" as advance tracks from the album that have been featured on SiriusXM Octane, hardDrive XL, Music Choice and many more outlets internationally.
Written by RED guitarist Anthony Armstrong, longtime RED producer Rob Graves and Keith Wallen (Breaking Benjamin, Adelitas Way), "Sever" is also being featured on Spotify playlists like Volume Maximo, Rock Hard, New Metal Tracks, All New Rock and Hard Rock, that collectively gather more than 2.2 million followers.
RED, comprised of Michael Barnes (vocals), identical twin brothers Anthony (guitars) and Randy Armstrong (Bass), and Dan Johnson (drums), wrapped a 34-city major market tour with In Flames last December. They are currently featured on the Winter Jam Tour Spectacular, which is regularly ranked among Pollstar's top first quarter events.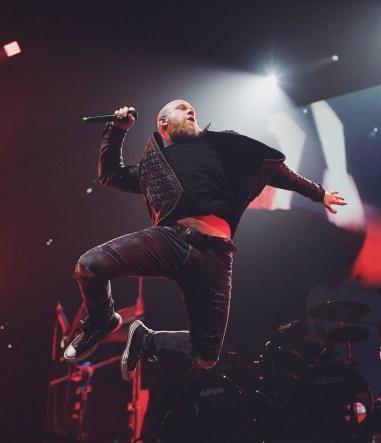 RED's Michael Barnes is pictured during Winter Jam's opener in Jacksonville, FL's
VyStar Veterans Memorial Arena Jan. 10. (Photo credit: Courtney Dellafiora)
All of the latest RED tour dates, news and more can be found at www.thebandred.com, Instagram, Twitter, YouTube, Spotify and Facebook where they have nearly one million likes.
About RED:

Rock band RED launched its RIAA Certified Gold album End of Silence in 2006, followed by five acclaimed albums that together amassed two million albums sold, hundreds of millions of streams, two Top 10 Active Rock singles, three Top 10 Mainstream Rock singles, 24 consecutive No. 1 hits at CRR radio and two Gold-selling singles ("Breathe Into Me," "Already Over"). The band has also received two GRAMMY nominations, six Dove Awards and multiple film, TV and gaming placements while being featured by Conan, The Tonight Show with Jay Leno, USA Today, Rolling Stone, Guitar World and many more. The band's touring has taken them to more than 25 countries across 2,500+ concerts while their musical instrument endorsements include: Westone, PRS Guitars, Peavey.com, Mesa Boogie Amps, Line 6 and more. Forming RED ENTERTAINMENT last year, the band will release its first full-length studio album, Declaration, April 10, 2020.
About The Fuel Music: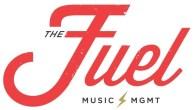 Established in 2008, The Fuel Music & Management, LLC, is a leading artist management and artist solutions company that independently distributes music internationally. Based in Nashville, TN, the Fuel team brings nearly 70 years of combined music industry experience in record label operations, major label distribution and marketing, and artist management for artists ranging from upstart bands to GRAMMY Award-winning, multi-Platinum artists. More information on the company can be found at www.thefuelmusic.com.
~ ~ ~ ~ ~ ~ ~ ~ ~ ~ ~ ~ ~ ~ ~ ~ ~ ~

It would be great if you would stay connected with me!! You can follow me on Twitter @DebiL1611, like me on Facebook at 2014 and Beyond, circle me on Google+, follow me on Tumblr, Instagram and Bloglovin', subscribe on YouTube, or connect with me on LinkedIn and Pinterest.

Please make sure to visit my homepage and subscribe to my blog for more great posts on running, fitness and lifestyle topics as well as food, product, music and book reviews, and more!