4 Stages – 4 sounds – 1 Winner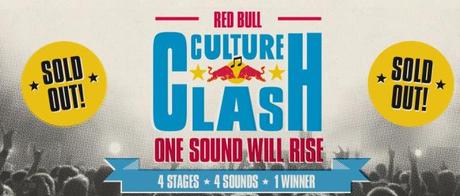 4 legendary crews & accompanying sound systems took to Wembley Arena last night for the 'Red Bull Culture Clash 2012'. Presenting the best of UK House, Reggae, Grime, Dubstep and Garage, each stage went head to head in one of the biggest music clashes of the year. Hosted by Radio 1's Big Dawg Tim Westwood and fellow Radio 1 presenter Gemma Cairney, it was up to the crowd (with the help of a decibel reader), to decide who should take home the coveted title and become the 2012 Red Bull Culture Clash Champion. Queue the deafening cheers and let the battle begin!  Warm-up acts for the night included ShyFX, B Traits, Dismantle and Stamina MC, who hyped up the crowd with a warm up clash.
Round 1 – No Elimination
The crews get warmed up and start the hype (15 minutes each)
Reigning champions 'Channel One' kicked off the night with their impressive Channel One sound system and massive reggae riddims. Mikey Dread and MC Ras Kayleb headed up the team in the hopes of retaining their Red Bull Culture Clash title. Channel One were representing London's oldest and original sound systems and clearly stood their ground as they kicked off the night on a high with their reggae carnival vibes and special guests Brother Culture Navigator + Solo Banton. Forget Notting Hill Carnival, it was all happening in Wembley tonight.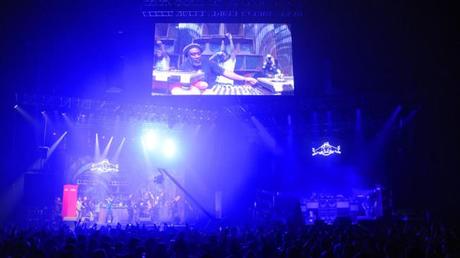 Image: Redbull.co.uk
Annie Mac Presents was representing Dubstep supergroup 'Magnetic Man' (Skream, Benga & Artwork). With a host of special guest lined up, Redlight, Disclosure and Rudimental hyped up the crowd with some of the biggest tracks of the year. Even though it was only a warm-up round, they meant business! Annie continued to tease the crowd with snippets of TNGHT, Azealia and Kanye – just enough to get the crowd hyped up and wanting more.
Major Lazer (Diplo, Jillionaire and Walshy Fire) were up next, with their genre-defying style of dubstep, reggae & dancehall. Major lazer knows how to work a crowd, with Diplo constantly jumping around the decks.  He even crowd surfed in an inflatable Zorb … And yes, this was only the warm up round. Opening with a questionable Bruno Mars dub plate, followed by Fun 'We Are Young', which led into the massive 'Pon De Floor' track – only Major Lazer could do such a segue. He followed this with Elephant Man's Gangnam (badman) style dub plate, that sent the crowd into a frenzy. Who'd have thought, Gangnam Style at a Red Bull Culture Clash!  Major Lazer was already breaking rules, as dub plates are only meant to appear in the last round. (*Update: Diplo took to Twitter to defend his actions claiming he hadn't seen these rules and they must be clearly outdated.)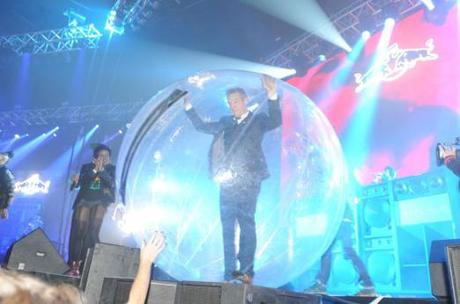 Image: Redbull.co.uk
To close Round 1, Boy Better Know had hefty support from their Grime collective including JME, Skepta, Frisco, Wiley, Shorty, Jammer, Solo 45 and Maximum.  Calling out Major Lazer for breaking the rules about using dub plates so early in the game, BBK went in on a grime remix of Gangnam Style (Gangnam Fest), which received a massive reaction from BBK fans. With the warm-up complete, it was time to get down to business!
Round 2 – The Selector
Sounds judged purely on track selection (15 mins)
Annie Mac Presents kicked off with Disclosure and their massive hit 'Latch', featuring live vocals from special guest Sam Smith. (More rule breaking as no special guests are allowed till round 4). Disclosure continued with some more crowd pleasers, including their remix of Jessie Ware's 'Running'. Major Lazer followed that up with an equally impressive set including Skreams remix of La Roux followed by Bengas & Coki's 'Night' and the massive, yet slightly predictable crowd pleaser, House of Pain's 'Jump Around'. His special guest Stylo G, took to the stage for 'Call Me A Yardie'. Major Lazer received massive support from the crowd and it appeared he had this round in the bag.  The BBK crew smashed it with classic tracks such as 'Too Many Man, 'Duppy', 'R U Really From the Ends' followed by Wiley's smash hit 'Heatwave' and 'I'm Skanking'. Channel One were joined on stage with some live brass, and came back fighting with some trash talk against AMP: "Magnetic Man you got beat last time."  "Annie Mac, you look like a lost sheep' "Skream & Banger…" (Bit of a failed diss when the name isn't correct ). Channel one showed their support of their iconic sound system as they confidently proclaimed: "This is real soundsystem".
Winner of round 2 was Major Lazer (by a landslide). The crowd voted in their masses as the decibel reader went off the scale!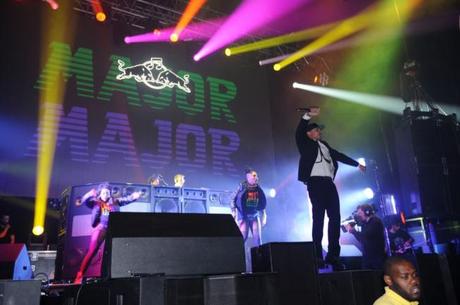 Image: Redbull.co.uk
Round 3 – Sleeping with the enemy
Time to play another systems music. This is where things get nasty! (15 mins)
Channel One didn't follow the rules for round 3, as they stuck to their original reggae vibes instead of championing a  new sound as requested.  Major Lazer on the other hand, switched it up and laid down some serious reggae roots and introduced legendary Johnny Osbourne as their special guest, to perform 'Buddy Eye' and the introduction to 'Jah No Partial'. (More rule breaking though with use of special guest) Major Lazer closed their set with the crowd singing along to Bob Marley's 'One Love'. BBK were still not pleased with Major Lazers rule breaking, so decided to get nasty and spoil Majors Lazers special guest for round 4. Usher was the big special guest being kept under wraps, and BBK served a low blow by performing their version of 'Climax' first. BBK also hit back at the so called 'traitor artists' that should have been on their stage with their crew. E.g. Ms Dynamite, who was repping for Annie Mac Presents. The AMP team brought out the big guns in the form of Ms Dynamite, who was dissing BBK over 'Too Many Man'. Maverick Sabre was the next special guest and added a creative twist to their set, as he covered Oasis classic 'Wonderwall'.  This was followed by the hilariously edited version ofDiplos Blackberry advert and a skit version of Diplos 'Express Yourself' dance routine, involving overweight male dancers 'Twerking'  in gold hotpants. Quite an image! The AMP crew were the clear winners of round 3 as they owned the Wembley Arena.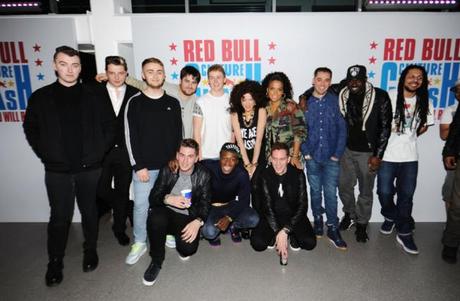 Image: Redbull.co.uk
Round 4 – The Decider 
The clashing crews play the biggest tunes in their bag. Last chance to own the battle. Custom dubplates played out here. (12 mins)
Big Dawg Westwood announced that as so many rules were broken by all teams, the previous rounds were to be wiped clean and the final round would decide the overall winner. It was anyone's game from here on out, and each team were given 12 minutes to impress with their custom dubs, special guests and all out culture clash madness.
Boy Better Know were up first, with their final attempt to impress. They invited their first special guestChipmunk to the stage, with a reworked version of 'Oopsy Daisy We Killed You Again'. They continued spitting out  the hits including 'Every Gyal', 'Taking The Hardest' and once again continued the war dubs dissing the opposing teams: "Skream & Benga snorting the Charlie" and "Diplo's a mutha' f***** corpse in a coffin'. A lot of trash talk from the BBK crew, but their supporters stood by them. Their final special guest was the one and only Lethal Bizzle, who performed 'Leave It Yeah' folowed by 'Pow' with Emmanuel Frimpong. There was massive support for the BBK crew, who put up one hell of a fight in their last chance to impress. It was up to Channel One to answer back with their final special guest Luciano. They once again proved that their reggae riddims stood out in front tonight against the competition. Annie Mac Presents team joined forces with a an impressive entourage for their final round. The first special guest included Katy B with 'On a Mission'. John Newman also provided live vocals for the massive Rudimental hit 'Feel the Love'. The one and only Example then took to the stage with his reworked version of 'Changed The Way You Kissed Me'. Annie certainly kept the best for the final round and delighted the crowd with each surprise guest. As Annie constantly asks her listeners on a Friday night if they're #raving or #behaving, after this set, the crowd were certainly #raving. Major Lazer set his final round in motion with a Pharoahe Monch 'Simon Says' dubplate, followed by a mixed combination of dubplates from RDX 'Jump', Nirvana 'Smells like Teen Spirit' and Blur 'Song 2'. Such a massive crowd reaction and this was even before he brought out the big special guests. First up was none other than Mobo award winner Rita Ora  with 'Face Melt' and international R&B star Usher! Yes USHER at a culture clash, who performed 'Climax' on the Stalag riddim.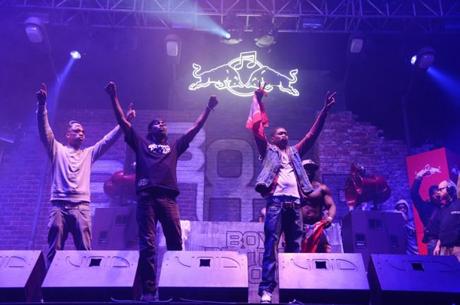 Image: Redbull.co.uk
The final round saw big war dubs, a lot of creativity in track selection, some serious flows and some of the biggest names in music. But it was up to the crowd to decide the overall winner. Westwood and Cairney took to the stage again and each team received rapturous cheers from the crowd. The decibel meter measured each response, and even though many believed Major Lazer or AMP had it in the bag, Boy Better Know cinched it in the end, by 4 decibels, to take home the coveted title 'Red Bull Culture Clash Champion' of 2012.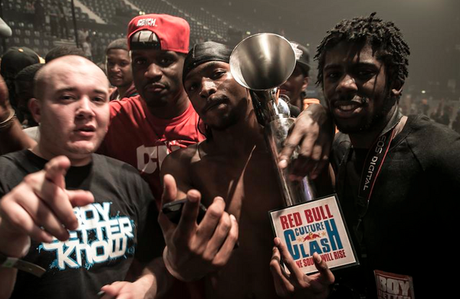 Image: Redbull.co.uk
Regardless of the result last night, the Culture Clash was a brilliant opportunity to showcase the best of the music scene today.  Big up everyone involved for such an amazing night and all I can say is 'ROLL ON NEXT YEAR!'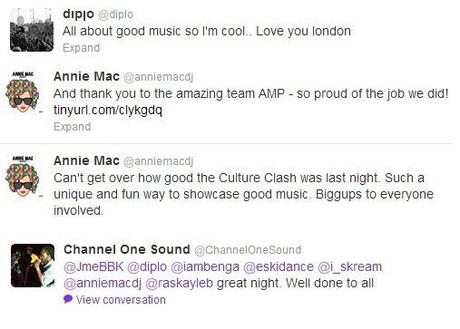 Twitter support