Sometimes, a girl needs chocolate.  Heck, let's not even get gender-specific here: sometimes, we ALL need chocolate.  If you're anything like me, this need for chocolate is frenzied and wild and sort of uncontrollable – a trip to the store to pick up a morsel of chocolate is nothing sort of a terrible idea (regardless of how essential it may be) because it will inevitably end in you clearing the candy and cooking and ice cream aisles of anything with 'chocolate' as a primary ingredient.  Yes, I've been there.  Yes, that shopping cart is grossly embarrassing.  Yes, I'll do anything to avoid being in that situation again.
Last night, I needed chocolate.  I had 45 minutes before leaving for work and Blaze was desperate to be walked for at least 20 of those 45 minutes.  Since I still had to get ready, hitting up the grocery store for a dark chocolate bar by Theo or Fran's was out of the question.  I was going to have to bake something – and it needed to be accomplished with one bowl and limited time.  Fortunately, I knew just where to look.  My favorite non-Paleo food blog is without a question Smitten Kitchen.  Deb writes eloquently, parents well and never posts anything untrue about a recipe she creates or adapts.  She brings a sense of humor to everything and is spot-on when it comes to literally everything that I've tried from her blog.  From the best cake I've ever made to comfort food central, her s*** is good.  While most things are definitely not Paleo, some of her recipes can be easily adapted to become the food of cavemen (and women).  Like these brownies, which are the first recipe that I've taken from Deb and adapted entirely to become Paleo-centric.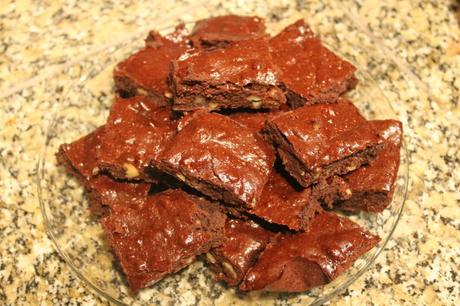 Now, before you jump in on me and say "but chocolate isn't Paleo!" "Paleo means no dessert!" "Even Paleo desserts are cheating!" … let me say this: I don't really care.  My sanity and general like-ability yesterday depended on me having a bit of chocolate.  So I did.  And the world was a much better place.  Just be warned: these suckers are intense.  You'll want a glass of almond milk to wash them down and to prevent yourself from eating them all, you'll likely put them in the freezer.  I did.  Then, I ate one out of the freezer.  It was delicious.  I am not safe.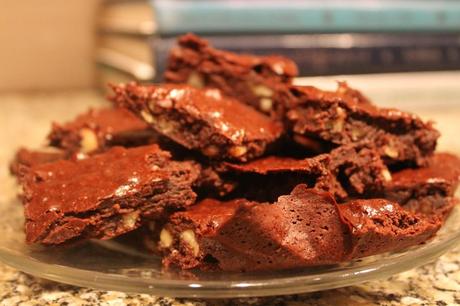 Perfect Cocoa Brownies
Ingredients:
10 Tbsp. coconut oil (you can use an equal portion of butter if you aren't dairy intolerant)
1 1/4 c. coconut sugar
3/4 c. plus 2 Tbsp. unsweetened cocoa powder
1/4 tsp. salt
1/2 tsp. pure vanilla extract
2 lg. eggs, cold
1/2 c. almond flour
2/3 c. nut of your choice (optional)
Method:
1) Position a rack in the lower third of the oven and preheat it to 325 degrees.  Line the sides of an 8×8 baking pan with foil or place muffin cups in muffin tins.
2) Combine the oil, sugar, cocoa and salt in a heatproof bowl and microwave for up 2 minutes, or until combined.  Stop the clock to stir and incorporate all ingredients every 30 seconds.  Set aside until mixture is warm, but not hot.
3) Stir in vanilla with a wooden spoon.  Add the eggs one at a time, stirring well after each one.  When the batter is thick, shiny and well-blended, add the flour and stir until incorporated.  Then, beat vigorously for 40 strokes (this is what Deb recommends, so it's what I went for) with a wooden spatula.  Stir in nuts, if you are using them.
4) Spread the mixture into a pan and bake until a toothpick plunged into the center emerges slightly moist with batter.  This took about 20 minutes for me, but could take as much as 30 minutes.  Let the brownies cool on a rack completely for cleanest cutting. Refrigerate or  freeze to store.
Prep time: 5 minutes
Total time: 25-35 minutes
Serves: 18 brownies… so one person (if you're me)