Sweet and savoury combos are something I have always been suspicious of until fairly recently. I'd go as far as sweet chilli sauce, but apple butter on my Pork & Co cob was one step too far. That's pretty much all changed now (though you can keep your apple butter to yourself!). Be it watermelon and feta, pear and blue cheese, or even the slightly-intimidating cod and pineapple combo at Skosh (full review) I'm on board these days.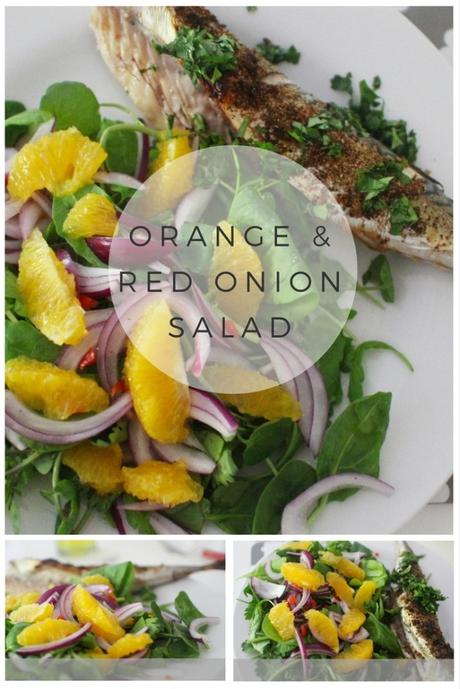 This is one of the combos I really, really enjoyed. It's not even a recipe, more a preparation and assembly of ingredients, but it's so much more than the sum of it's parts. Red onions, chilli, watercress, orange – it all comes together to form a really delicious salad that I just couldn't get enough of.
This made the perfect side to our grilled whole mackerel. We're trying to get more oily dish into our diets, however salmon is a tad pricey to add into our menu every week. Mackerel on the other hand is a total bargain – two whole ones from Waitrose is under £2, with an extra 20% off on a Friday for cardholders (totally recommend getting one, if purely for the free monthly magazine). If you're squeamish (*ahem* like W!) then just get the guy/gal at the fish counter to chop the head of for you, and obviously gut it – because no-ones got time or inclination to play with fish innards *shudders*. Simply whack under the grill, flip after around 8-10 minutes and you've got great fish. Whilst we did press some spices onto it here, it's not a fish that absorbs flavor easily so next time I'd just squeeze with lemon/orange and season well.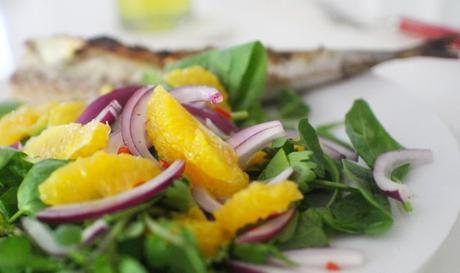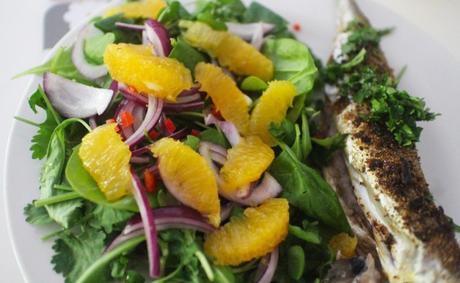 Salad 'Recipe' – made enough for two (this one won't keep well so make right before serving!)
1 bag of watercress (I also like a mix of watercress and spinach)
2 large oranges
1 red chill
1 large-ish red onion
Segment the oranges (we followed this guide – it's messy!), finely dice the chilli and finely slice the red onion. Toss the onion with the watercress, then scatter with the chilli and top with the orange. Serve with fish, though I imagine it would be great with some grilled chicken too.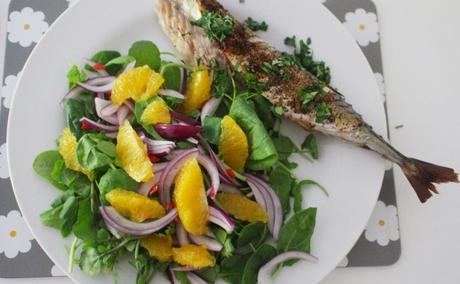 Are you a fan of sweet/savoury combos? What's your favorite fish dish?