Since going Paleo, I have had an insatiable appetite for a big Italian dinner.  I have wanted nothing more than to sit down to a giant plate of spaghetti and meatballs with a gigantic side of garlic-laden french bread and a bottle of chianti.  This is not an exaggeration.  When I was cleaning out my pantry, I felt a little tiny piece of my soul die when I tossed out all the artisan pasta I'd spent a fortune on at Pike Place Market.  Le sigh.  While browsing my Pinterest boards for recipe inspiration today, I came across this gem and thought to myself, "hey dummy, just because noodles are off the plate doesn't mean that you can't indulge in some Italian home-cooking."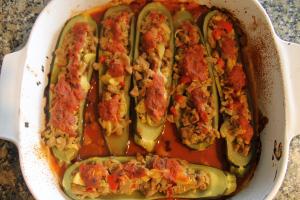 Before I cut out grains, dairy and beans, Skinny Taste was a go-to website for many of my culinary whims.  All of her recipes are delicious and easy to prepare.  As an added bonus, nutritional information is included for everything, which was incredibly helpful when I was calorie-counting.  I had to tweak her recipe a bit to make it Paleo-and-Whole 30-certified and am incredibly happy with the results.  This recipe would be great as a side dish for a family dinner or as the main attraction with a side salad.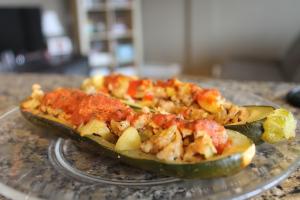 Sausage-Stuffed Zucchini Boats
Ingredients
1 cup marinara sauce (I used Trader Joe's Tomato-Garlic Sauce – all natural, no added sugar, perfect)
3 medium zucchini (yellow or green will do)
1 tsp. coconut oil
1/4 Walla Walla sweet onion, finely diced
3 cloves garlic, smashed into oblivion
1/2 red bell pepper, diced
10 oz. sausage of your choice (I used spicy chicken this time around)
1 can artichoke hearts, diced
Method:
1) Preheat oven to 400 degrees. Cut zucchini in half lengthwise and scoop out the flesh using a melon baller or teaspoon.  Chop up the zucchini flesh and set aside.
2) Put enough marinara sauce in the bottom of an 8×8″ baking dish to cover the bottom.  Place zucchini halves over the sauce cut side up.
3) In a large saute pan, brown sausage (make sure to break it up into smaller pieces while it cooks!).  Set aside.  Heat oil and add onion, garlic, bell pepper and artichoke hearts.  Cook over medium-low heat until onions are soft (about 2-3 minutes).  Add zucchini flesh and season, cooking until moisture evaporates (5-7 minutes).  Combine with sausage and cook a couple more minutes.  Season to taste.
4) Spoon the sausage mixture into each hollowed zucchini until the little guy is packed with stuffing.  Top each with a little bit of sauce.  Cover the baking dish with a lid or aluminum foil and bake for 30 minutes.
* I had a ton of extra stuffing leftover – like 2-4 more "boats" worth.  I reserved it all to serve on spaghetti squash later in the week.  It's kind of hard not to quote Rachael Ray right now with a big, ol' "Yum-O!"  I am ridiculous.
Prep time: 5-10 minutes
Total time: 30-40 minutes
Serves: 3 dinner servings