It's kind of amazing – now that I'm finished with the Whole 30, I feel far more relaxed about my Paleo diet and how to go about prepping for an entire week of meals.  I don't want to discount the value I gained from the entire Whole 30 experience, but I do think that the number of dietary limitations caused me to over think everything that I put into my body.  There were so many questions about when and what I could eat according to this and that preparation method for this specific dietary reason that I really felt burnt out by the time August 7th rolled around.  If you had asked me on August 6th what I would have for dinner on the 7th, I probably would have rattled off a number of non-Whole 30 compliant foods and even an ice cream sundae for good measure.
But I didn't.  Regardless of the fact that I spent almost all of my first non-Whole 30 day testing out various pie recipes for Brynn's wedding next week, I ate perfectly.  Sure, I had a couple of frozen chocolate banana bites and a mini Paleo peach pie, but I also went to bootcamp and did an Insanity workout.  I don't typically like to justify poor eating choices with extreme workouts… but I did today.  And I do not feel bad about it at all.  Particularly because I got to indulge while spending time with one of my oldest friends.  Sarah and I were in the same sorority during undergrad and have managed to stay good friends despite living seriously far apart for most of the past six years.  Either I've been in a random international location or she's been in Iowa or I've been unable to get my poor, carless self to visit her in Tacoma.  Today was a different story – she and her boyfriend recently adopted a puppy and she wanted to see how I was doing with Blaze to get ready for their new addition.  So, while Blaze acted cute / ignored my commands for a few hours, Sarah and I got to catch up on old (and new) times.
It was the best day off I've had in a very long time.  I had this salad for lunch on Tuesday.  And I've had it every day since then.  It's super yummy.  And since fruit has been kind of "off the plate" for the past month, it was a real treat to have a plateful of blackberries, dried cherries and ripe Bosc pears.  As a side note, there was a ton of extra chicken and dressing after I'd prepped three salads for lunch this week.  Pare down the ingredients accordingly, or just save the extras for a great dinner or extra salad!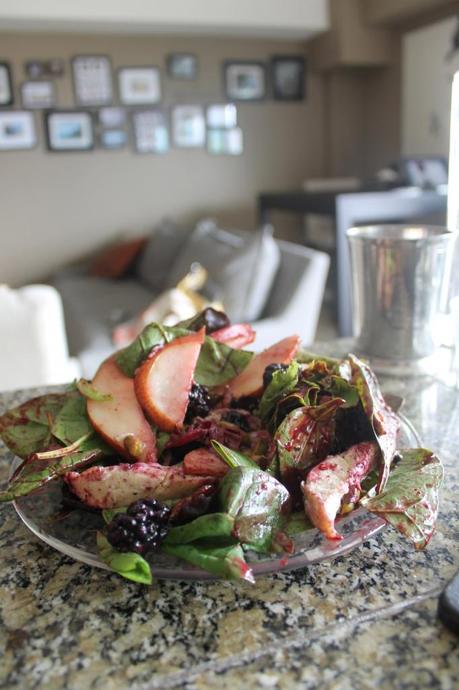 Summer Berry Salad
Ingredients:
1/2 c. fresh orange juice
1/4 c. fresh lime juice
1/4 c. fresh lemon juice
1 Tbsp. plus 1/2 c. extra virgin olive oil
1 tsp. fresh basil, chopped
3/4 tsp. salt
1/2 tsp. black pepper
2 large skinless, boneless chicken breast halves
3 c. fresh blackberries
1/4 c. red wine vinegar
3 Tbsp. coconut sugar (find at Whole Foods or Metropolitan Market)
1 tsp. Dijon-style mustard
1/4 tsp. dried oregano
1 bag of 50:50 mixed greens (half baby spinach, half wild greens)
1 medium pear, cored and thinly sliced
1/2 c. dried sour cherries
1/2 c. pistachios
Method:
1) In small bowl, stir together orange, lime and lemon juices, 1 Tbsp. olive oil, basil, 1/2 tsp. salt and 1/4 tsp. pepper.  Place chicken in bowl so that marinade covers it completely.  Refrigerate 1-4 hours, turning chicken occasionally.
2) For dressing: In a blender or food processor, combine 1 c. blackberries, vinegar, sugar, mustard, oregano, 1/4 tsp. salt and 1/4 tsp. pepper.  Blend until smooth.  With blender running, add 1/2 c. olive oil and blend until well combined.  Cover and refrigerate until serving time.
3) Preheat oven to 375 degrees.  Place chicken, with marinade into a baking dish.  Bake chicken, uncovered, for 25-35 minutes (depending on size of chicken breast).  Turn the chicken over halfway through cooking.  You can also grill the chicken over medium coals for 12-15 minutes or until done (flipping once).
4) Slice chicken and divide among plates with salad greens, sliced pears, cherries and blackberries.  Drizzle with prepared and chilled dressing.
Prep time: 2 hours
Total time: 2 hours, 30 minutes
Serves: As mentioned above, there was a ton of leftovers with my preparation – this salad would likely serve 4-6 people.