I have spent most of my adult life pretending to hate bacon.  At restaurants, I would make a show of holding bacon off my cheeseburgers, asking for fruit instead of bacon with my breakfast and sending back any plate that bacon had touched.  As ridiculous as it is to admit, I would even order BLTs at the local pub without bacon.  My obsession with avoiding bacon was practically a disorder.  Those dining at me would roll their eyes and servers would ask me if I was even American.
Thankfully, I've righted my ways and accepted bacon back into my life with open arms (that is, until the Whole 30 is over in approximately 22 days).  Before I started the Whole 30, I spent ten glorious days experimenting with my former food nemesis.  Cooking with bacon feels both illicit and wonderful and I can't wait to continue sharing some of the glorious recipes I've come up with.  As a prelude to the bacon madness that's about to rain down upon this blog, here are my version of pigs in a blanket.  Pigs in a blanket conjures up memories of summertime, baseball games and barber shops.  As a kid, I would chow on them with my grandfather at his barber shop before heading to the KingDome to snack on more all-American treats like kettle corn, peanuts and cotton candy.  Now that I'm a full-grown and semi-responsible lady, I can't indulge in sugar binges like I did two decades ago.  As a compromise between the treat I remember and the treat I can enjoy these days.  I made these little buddies before the Whole 30 started and can't wait to make them again on August 7th.  They can be easily whipped up out of pretty much any Paleo pantry with three simple ingredients and 15 minutes for assembly.  Seal them up in an airtight container and they'll last for as long as you let them hang around.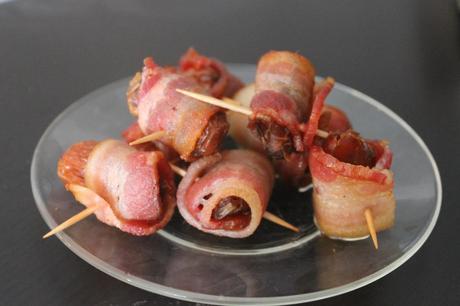 Paleo Pigs-in-a-Blanket
Ingredients:
10 Medjool dates, pitted
10 raw almonds
5 strips of thick bacon
Method:
1) Prep your bacon! Preheat oven to 375 degrees. Place bacon on baking sheet lined with aluminum foil and pop into the oven for 15-20 minutes.  You'll know it's done when tiny bubbles form on top of the bacon.  Allow bacon to cool to the touch; cut each strip in half.
2) Stuff each date with an almond and wrap with a piece of bacon.  Secure the bacon with a toothpick and place each date on a baking sheet.
3) Bake your pigs-in-a-blanket for 10 minutes, or until bacon is nice and crispy.  Allow to cool long enough to avoid burning your mouth and enjoy!
Prep time: 10 minutes
Total time: 30 minutes
Serves: 5 snacks (make in bulk for a great party appetizer!)