This is one of my absolute favorite meals. I'm sure I say that about lots of recipes, but this is my go-to if I'm stressed, my go-to if it's a miserable day. It's not the quickest so if I haven't got much time I'd revert to a carbonara, but it still takes under an hour. It needs more attention that other meals I make, but the stirring calms me down. If you find me cooking a mushroom risotto, it's often a sign something is wrong.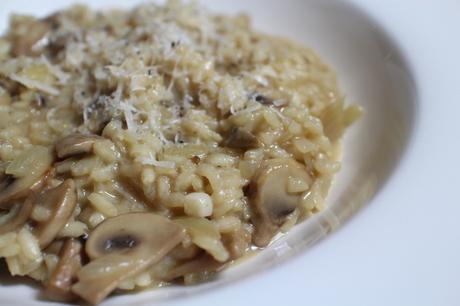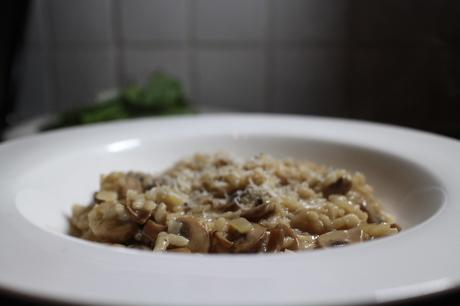 Not the healthiest of meals I try to avoid eating it too often – and when I do it's a small portion bolstered with a good side salad. It's carb-heavy with plenty of calories coming from the parmesan – of which I like lots. If you're not such a fan you can easily cut down on the amount. I've found good stock isn't too necessary in a mushroom risotto (cheap cubes are fine) as long as you don't add extra salt. Just enjoy a slightly naughty meal every once in a while – it's my go-to for a night on my own (W hates mushrooms), girly film, glass of wine. A bowl of risotto is perfect to curl up with in pajamas.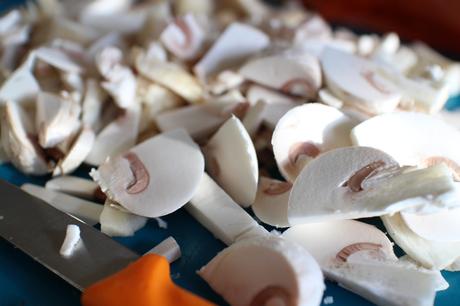 It's also pretty budget friendly – perhaps surprisingly! I find that it doesn't really matter too much if you use cheaper mushrooms, the rice isn't that pricey, and I always have stock, onions and garlic around. Even parmesan isn't essential – a strong mature cheddar is just as good. I tend to buy 'pricer' mushrooms on "whoops" offers and freeze them sliced, otherwise I stick to standard button mushrooms. I have a small tub of dried porcini ones for added flavour; initially I thought they were a little out of budget, but a tub has lasted me a good 18 months so far! Either way, it's still cheaper than my other go-to treat meals of steak, duck etc!
It's a great way of using up leftover roast chicken or turkey (hello turkey season!), it makes a fab change from more traditional comfort food, and it can easily be made veggie for a festive main course – basically having a risotto recipe under your belt for the festive season is pretty much essential.
Ingredients, for one greedy Chloe…
100-150g mushrooms, sliced
2-3 pieces of dried porcini, broken into small bits
1 chicken stock cube (a risotto is not the place for cheap stock cubes, I find Knorr* have a great flavor without being overly salty)
40g butter, split into three – 20g, 10g, 10g roughly!
1/2 an onion, finely chopped
1 clove garlic, finely chopped
70g risotto rice (alborio is the variety I tend to go for)
A good handful of finely grated strong cheese
Melt 10g of butter in a medium saucepan (preferably one with a lid), and add the mushrooms. Fry over a high heat until golden – this may take a while if using mushrooms you have frozen. If lots of liquid is produced drain off but don't chuck it away! Place your mushrooms in a bowl.
Melt the 20g butter in the same pan, and gently fry your onions until soft and golden, adding the garlic for the last few minutes. Meanwhile add your porcini bits to a jug with the stock cube and 250ml boiling water. Stir to dissolve the cube, and keep the jug warm.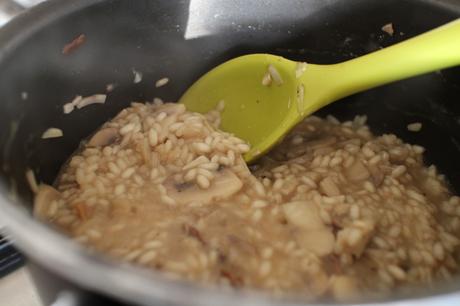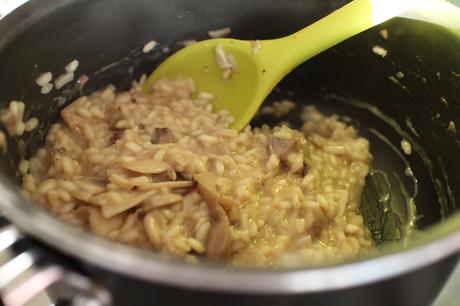 Turn the heat up and add the risotto rice to the onions, stirring constantly until coated in butter. Now add a little stock and stir until absorbed. Keep adding the stock in smaller amounts, stirring as you go – I find that the lower I keep the heat and the more I stir the tastier the risotto. However I have found that I don't need to stir constantly; I just stir after adding the stock, leave it on a low heat, and come back and vigorously stir after five or so minutes before adding the next lot of stock.
Once you've used up all the stock, add back in the mushrooms and any juices. Stir until heated through, then taste. Adjust seasoning, and keep cooking with a little water if the rice is still too crunchy. Then add 10g butter and half the cheese, don't stir, turn the heat off and pop the lid on. Leave for five minutes, then stir madly to incorporate – this gives the most amazing texture. Serve with extra cheese, snuggle up and enjoy.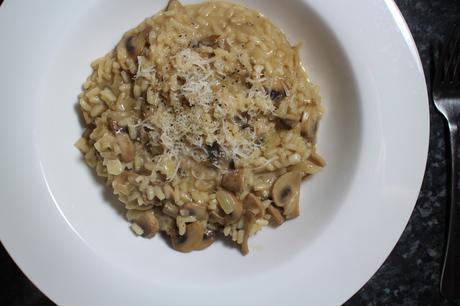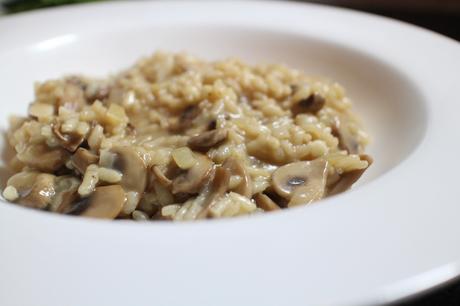 This really is one of my all-time favorite meals. It's ideal for making whilst revising as concentrating on the stirring and stock additions turn out to be quite relaxing, and a bowl of risotto is my idea of the perfect comfort food. Just delicious!
Disclaimer: I was gifted some Knorr stock to use in a recipe, however as always all opinions are my own.
Are you a fan of risotto? What's your favorite comfort food?