A couple of Christmases ago, I set myself a challenge … to glaze a ham.
No mean feat, I admit, but I'm the person who lives mostly on English muffins and toasted cheese sandwiches, so it wasn't likely to be the simplest of tasks.
It became a kind of Christmas by the kids, with my brother Michael cooking Moreton Bay Bugs wrapped in prosciutto with garlic butter and Chorizo and prawn skewers (he's definitely more impressive in the kitchen than I am!).
I picked my glaze and alternated swims in the pool with glazing the ham as it cooked for an hour and a half.
When it was done, it was majestic. And the oven was a hot mess (which I quickly abandoned, leaving the cleaning to mom … gotta love the 'I cooked, you clean' theory).
Here's the recipe I used:
Maple honey mustard glazed ham
Ingredients:
100 g (1/2 cup, firmly packed) brown sugar
80  ml (1/3 cup) maple syrup
80 ml (1/3 cup) honey
1 tbs Dijon mustard
1 (about 8 kg) whole leg ham, on the bone
Whole cloves, to stud
Method:
1. Stir the sugar, maple syrup, honey and mustard in a bowl until the sugar dissolves.
2. Preheat oven to 170C. Line a large baking dish with 2 layers of non-stick baking paper. Place an oven shelf in the lowest position. Remove all other shelves. Use a sharp knife to cut around the shank of the ham, about 10cm from the end. Run a knife under the rind around edge of ham. Gently lift the rind off in 1 piece by running your fingers between the rind and the fat. Score the fat in a diamond pattern, about 5mm deep. Stud the centres of the diamonds with cloves. Transfer to prepared dish.
3. Brush one-third of the glaze over the ham. Bake, brushing with glaze every 25 minutes, for 1 hour 30 minutes.
If you're feeling in the mood from some freshly glazed ham, give it a go! Merry Christmas! Just remember to pull out the cloves from your pieces before you eat them.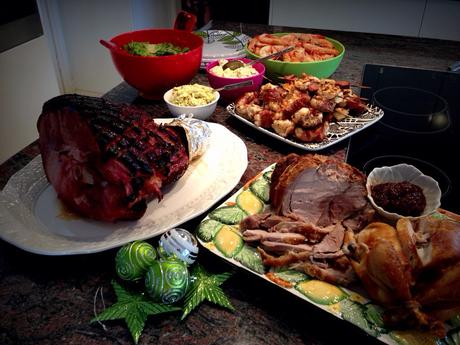 Now that's a Christmas feast (for five!) … freshly glazed ham, roast pork, roast chicken, prawn and chorizo skewers, bugs wrapped in proscuitto, fresh prawns and salads.
-27.518758
153.272547