A.K.A a delicious meal.
In fact, one of the nicest meals I've cooked in a long time. And, amazingly, one of the first meals I've cooked entirely by myself for W ever. In the whole almost-six years we've been together, I've rarely cooked solo for him. He's always helped out, chopping things, cooking an element, with me being more the sous chef. I'm a lucky girl really!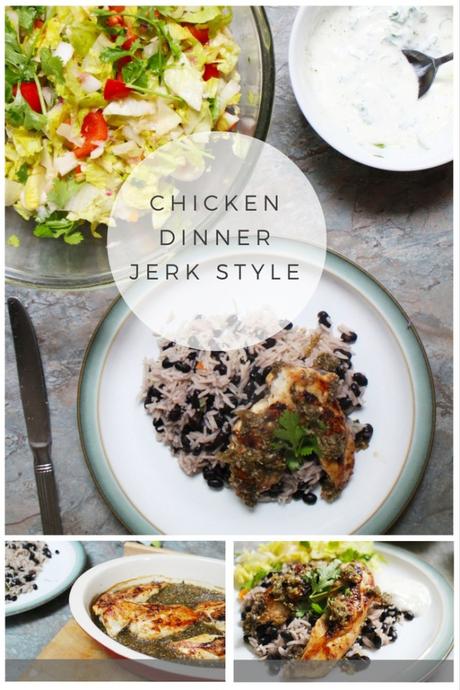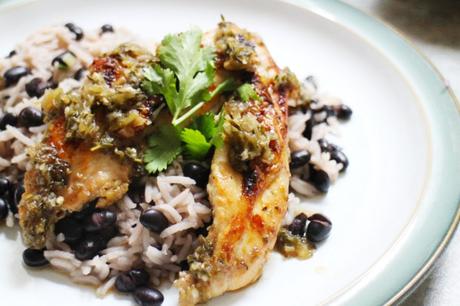 The entire meal here was influenced by one of Jamie's Thirty Minute Meals. Let me tell you this, half an hour is a lie. This took me well over an hour, although having said that it was relatively stress free, didn't take too much washing up, and I reckon with practice should be easily done on a work night. And it was certainly special enough to make for guests too – it looked great, and it was damn yummy.
This does have, however, one of the longest ingredient lists of any of my recipes. Generally I'm not hugely comfortable with such meals, as I find them expensive and fiddly. This one isn't too bad as there's no specialty ingredients, and we actually had everything minus the chilli and fresh salad ingredients. If you don't have everything, particularly the spices, do what I did during my first year of university – build up my spice cupboard gradually by buying one with each (or every other) shop.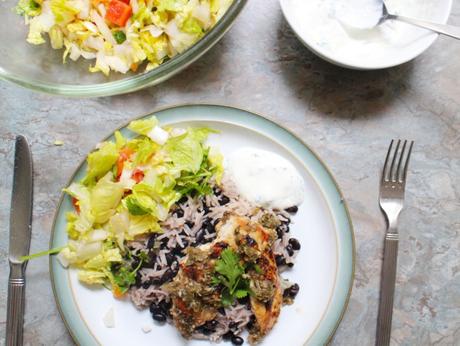 Ingredients for 2 (Chicken & Rice)
Two skin-on boneless chicken breasts – or thighs to make it cheaper, as I will be doing next time!
1 tbsp runny honey – or a big squeeze from a squeeze tub
A few sprigs of fresh thyme
2 spring onions
1 cinnamon stick
150g rice, we used Basmati
300ml chicken stock
1 tin black beans
Ingredients for 2 (Sauce)
4 spring onions
Small bunch of fresh thyme (use some for the chicken)
1tsp each of ground cloves nutmeg and allspice
2 tablespoons golden rum
3 tablespoons white wine vinegar
1 tablespoon runny honey
1 Scotch bonnet chilli
3 cloves of garlic
Ingredients for Lots (Salad & Yoghurt, served 2 for dinner, then lunch the next day)
1 red pepper
1 red chicory
1 romaine lettuce
1.5 limes
2-3 spring onions
Small bunch of fresh coriander
250g natural yoghurt
few sprigs of fresh coriander
Half a lime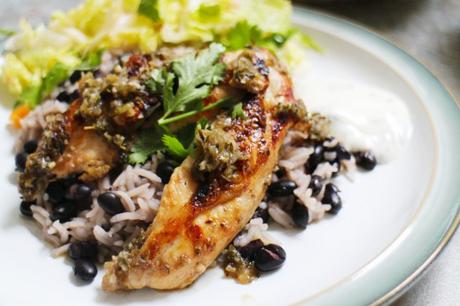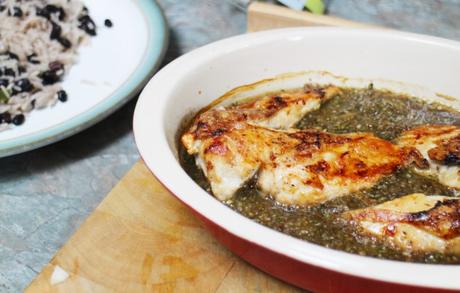 MAKE THE JERK SAUCE Trim and roughly chop the onions and put into a mini chopper with the leaves from most of the bunch of thyme. Add the spices, rum, vinegar, honey and 2 teaspoons of salt. Remove the stalks and seeds from the Scotch bonnet chilli and add to the chopper with the garlic and blitz to a smooth paste. Mine was more liquid than paste, so I have reduced the liquid quantities in my recipe.
FRY THE CHICKEN Meanwhile put the chicken breasts on a plastic board and halve each one, leaving them joined at the top of the breast. Drizzle with olive oil, sprinkle with salt & pepper, then rub all over both sides of the chicken. Put into the hot griddle pan, skin side down, and leave to cook. Once the undersides are golden, turn the chicken over. Pour the jerk sauce into a  baking dish and lay the chicken on top, skin side up. Drizzle over 1 tablespoon of runny honey and scatter over  the remaining thyme sprigs. Put on the top shelf of the oven and cook for 15minutes, at 220C.
RICE & BEANS Put a saucepan with a lid on a medium heat. Trim and finely slice the spring onions and put in the saucepan with the cinnamon stick, a good tbsp of olive oil and a big pinch of salt & pepper. Stir and let soften for a minute or so, then add the rice and stock. Drain and rinse the beans, add to the pan and stir gently. Bring to the boil, then reduce to a medium heat. Pop the lid on and leave for 12 minutes.
YOGHURT Tip the yoghurt into a small serving bowl. Finely chop a few sprigs of coriander and add to the bowl with a pinch of salt and a good lug of extra virgin olive oil. Finely grate over the zest of 1/2 the lime and squeeze in the juice. Stir in.
SALAD Deseed and roughly chop the red pepper. Pop the chicory and lettuce on top and keep chopping until everything is fairly fine.  Pour in a few lugs of extra virgin olive oil and squeeze in the juice of the limes. Finely slice the onions, season to taste, then toss everything together. Tear over the coriander to finish.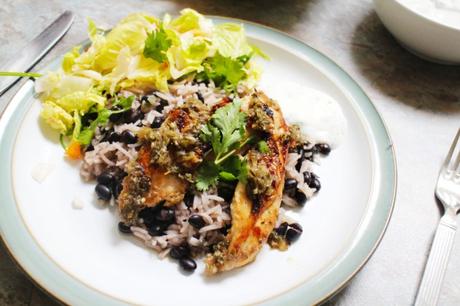 TO SERVE Take the lid off the rice after 12 minutes and give it a stir. All the liquid should have been absorbed. Taste and season if necessary. Take the chicken out of the oven, and sprinkle over some coriander if there's any left. Plate up, spoon over the jerk sauce from the bottom of the baking dish.
The chicken was tender, the skin crisp, coated in the most delicious sauce. Said sauce was spicy, spicy enough to make your nose run, but not inedible, and combined with complex flavours and a good whack of herbs. The rice and beans were so, so simple, yet we both loved them. Such an easy was to add plenty of flavor to a side of rice, I'll definitely be making them again. And the salad was also lovely, zingy, hot from fresh chilli, sharp from coriander, crunchy with pepper. All finished off with a lime and coriander yoghurt (gratefully received to take away some of the heat), this was a dinner I was proud of.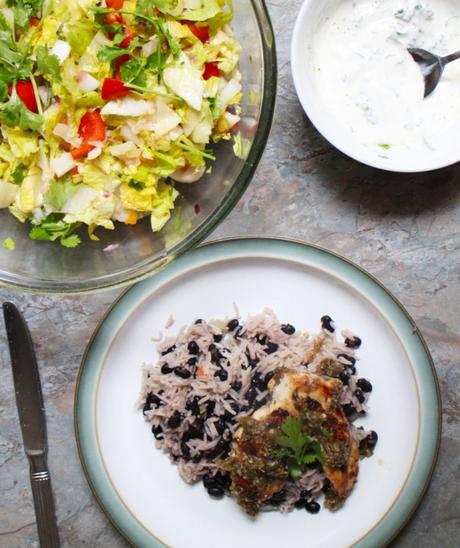 Have you cooked anything particularly good lately?