I woke up this morning in all kinds of pain.  I don't know if it's residual soreness from the marathon, aches and pains from two 8-hour nights running around El Gaucho, or the product of an intense Tabata workout at bootcamp yesterday… but I am Hurting. Badly. Today.  I don't think my traps and delts and obliques and quads and glutes have ever hurt so badly all at once.  It's so bad that I did the unthinkable and rotated my weekly strength training session with the 14-miler I was supposed to attack today.  Typically, I like to do my weekly long run on Wednesday because it's my day off, I'm always well-rested and my body's had a chance to recover from the work week.  This was not the case today.  I am not well-rested, my body is aching, and 14 miles on my only day off this week does not sound like a fantastic idea.  So… I'll have to do it on Friday, which is not ideal but will do.  Today I will lift heavy things.  Get buff.  Work on my traps.  Impress all those dudes at the gym who think I'm slightly insane for attempting a 65-pound deadlift.  It'll be fun.
I love lifting heavy things at the gym, particularly when accompanied by my personal trainer.  In five weeks, Kaisa has kicked my butt into incredible shape.  I haven't seen her in two weeks because of bootcamp, but I'm keeping the strength training she prescribed to me on the calendar at least once a week.  Gaining muscle is pretty cool, particularly because it allows me to chow down on protein-heavy meals like this: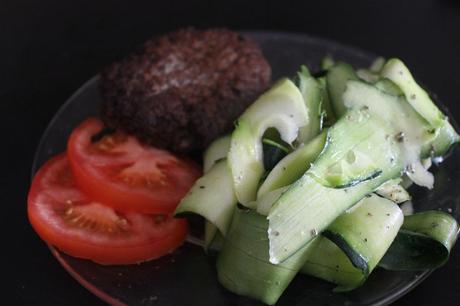 I mean, seriously guys, Mediterranean lamb burgers with ribboned zucchini salad and tomatoes?! I can eat this and not worry about my figure?! This meal took 15 minutes to make?! I now have burgers at-hand for the next three days?! I freaking love Paleo.
Mediterranean Lamb Burgers
Ingredients: 1.5 lb. ground lamb
1 Tbsp. dried basil
2 tsp. grated garlic
2 tsp. coriander
1.5 tsp. cumin
1.5 tsp. salt
1/2 tsp. pepper
1 egg, lightly beaten
Coconut oil (optional – for pan frying instead of grilling)
Method:
1) Mix all ingredients (except coconut oil) in a bowl and shape into four patties 1/2″ thick.  Make an indentation in the center of each patty to help them cook evenly.
3) Heat a grill or pan to medium-high.  If pan frying, spray pan with coconut oil to prevent sticking.  Cook patties for 3-4 minutes on each side, or until they are firm to the touch (temperature will be about medium to medium-well).
4) Serve up your four patties with side of arugula, red onions, tomatoes, olive tapanade and cucumbers OR…
Ribboned Zucchini Salad
Ingredients:
1 small zucchini
Zest from 1/2 of a lemon
Juice from 1/2 of a lemon
Drizzle of olive oil
Pinch of salt, black pepper and dried basil
Method:
1) Using potato peeler, ribbon zucchini onto a small plate.  Toss with all remaining ingredients and serve! (each recipe will serve 1-2 people)