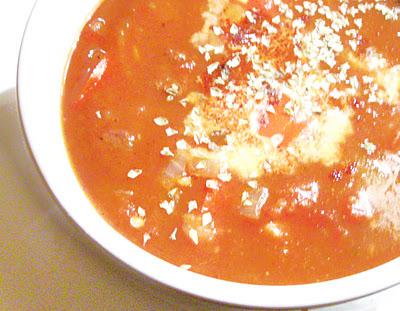 This is one of my favorite soups/stews (I love soup, you'll get used to me!), in fact it's really more of a stew and is definitely a main meal.  It's gorgeous freshly made but even better the next day when the flavours have really infused so ideal to make your 'packed' lunch the envy of your colleagues!
As ever, I was perusing my local L'dell (shh I know it's really called Lidl) and saw the Strathvale British Beef Frying Steak was on offer so I snapped up two packs...freezing one for future kitchen adventures....and used the other for my lovely Goulash Soup!
Please don't be put off by the list of ingredients, it really is so very easy to make and well worth it!
All the ingredients (apart from one optional extra) are from L'dell!
Ingredients:
2  x Tablespoons of oil
350g Frying Steak (you could also use braising steak or even minced beef for a really economical feast!)
1 x Onion (chopped)
2 x Tablespoons of Paprika (with a little extra to serve)
1 x Tablespoon of Flour
1 x Teaspoon Oregano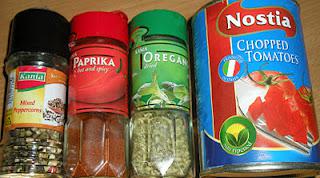 1 x Tin chopped or whole plum tomatoes (just chop the whole ones up with vertically placed scissors whilst still in the tin!)
2 x Stock cubes
1 x liter boiling water (if you want to stretch this out and make more of a soup add another 500ml)
500 g of potatoes, peeled and chop (I used Rooster as on offer!)
1 x Tablespoon of tomato puree
1/2 x Teaspoon of Sugar (yes sugar! Top tip from Italy...always add a pinch of sugar when cooking with tomatoes....trust me!)
1 x Red, Green or Yellow pepper (I bought the value pack with all 3 and eventually decided on the red!)
Salt and Pepper ( I used freshly ground mixed peppercorns from one of those little disposable grinders)
Optional:
1 x Tablespoon Fennel seeds (not available at Lidl)
1 x red chili finely chopped (if you want more heat!)
Sour Cream or Creme Fraiche to serve
Red Wine for the chef ( well, obligatory for me!)
Method:
- Cut the steak into 1cm pieces (I use scissors for this, a tip if you don't like the feel of meat is to freeze it for an hour first, this is also a top tip if you want thinly slice beef for stir fry).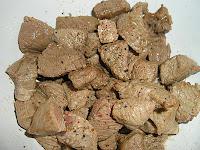 - Heat the oil in the pan on a high heat until it's smoking slightly and fry in batches  until just browned (you fry in batches so the temperature doesn't drop too much as you just want to brown the meat not cook it through).  Keep to one side on a plate or bowl. The steak will 'relax' and release juices.(oo-er!)
-
 Lower the heat and add the onion to the same pan (it'll soak up all the lovely steak juices) cook for about 5 minutes until soft, stirring occasionally.
- Return the steak and juices to the pan and add the flour, paprika, oregano (and fennel seeds/chill if using...you can always add extra chili at the end if you want to taste it first), crumble over the stock cubes
- Stir for about 1 minute until the steak and onion mixture is fully coated.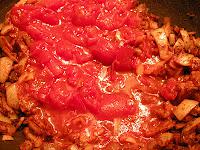 -Add the tin of tomatoes and boiling water - give it a good stir, pop on a lid and turn to a really low heat and simmer for approx 50 minutes.
- Pour yourself a glass of red wine and retire to the sofa
- After 40 minutes reluctantly leave the sofa and peel and chop the potatoes into 1cm cubes (though if you're really organised chop them before, place in a bowl and cover with cold water for extra wine time!)
- Add tomato puree, sugar, potato and chopped red/green/yellow pepper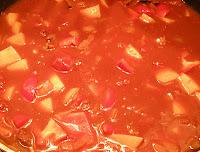 - Bring back to a simmer (the cold ingredients will have brought the heat down) and simmer for 15-20 mins until the potatoes are cooked.
IMPORTANT - taste and add more salt and pepper (don't be afraid of salt!)
VOILA!! You are now culinary genius!
Serve with a dollop or creme fraiche or a swirl of sour cream and sprinkle an 'ickle bit of paprika on top.
What are your favorite soups?  How did you get on with the recipe? As ever I'd love to hear from you - just leave a comment.
Laters Peeps!
Love Lainey x