Last night, I came home from work at 9:30pm.  It was early enough where I still felt like it was 'okay' to walk from downtown Seattle to the top of Queen Anne by myself and the air was just barely starting to become crisp.  I scooped up Blaze when I got home and took him for a nice stroll in the cool, cloudless night.  On our walk, I noticed that leaves are starting to change in the trees and dew is beginning to form on cars overnight – fall has arrived in Seattle.  Early fall is my favorite season in Seattle.  Every September, an Indian Summer settles in – the mornings and evenings are cool, the afternoons are warm enough to be considered beach weather and the sky is almost always cloudless.  It's knee-high boot and sundress weather; jackets are never really necessary but you might pack a scarf if you're going to a night football game at Century Link Field.  Kids are back in school, I have tennis courts to myself, writing becomes a bit easier and the restaurant becomes busy again.  Early fall is the last reminder to Seattleites to get out of the house and enjoy this beautiful city now because three – four months of rain and cold and gray are about to hit us hard.
By the time I finally settled in at home for the night, I felt refreshed and calm like I haven't in nearly two weeks.  The end of summer was almost too busy for me – every weekend I had a trip, wedding, birthday celebration or manic proposal to work through.  As a result, I have been feeling pretty terrible.  I've only been able to make CrossFit twice a week, my body isn't recovering from long runs as quickly as I'd like it to and I need at least one nap every day to get through it all.  With Birthday Week 2012 (the week in which I celebrate both my and my brother's birthdays) having come and gone, I finally feel like there is nothing of serious relevance on my social calendar.  And it feels really good.  Like I told my friend Colin last night, being in high-demand is really, really difficult when you're trying to maintain a healthy lifestyle.  With the exception of Husky football games, I am going into hibernation until I get myself back on track.
Enter my modified Whole 30, which began yesterday and continues until October 7th.  Really, it's only 18 days so I'm going to be calling it the Whole 18 from here on out.  It's an opportunity for me to re-stock my empty fridge, try new recipes and get my digestion back on track so I can be in prime form for the Portland Marathon.  With Day 2 in full swing, I feel remarkably well-rested (after my first 8-hour sleep in over two weeks) and excited to take a mid-length run along Seattle's waterfront.  Then, it's off to the park for late-summer sunbathing and client meal-planning before I head to the Gaucho for a night of tuxedo-filled fun.
Butternut Squash Lasagna
Ingredients:
1 lb. hot Italian sausage or chorizo sausage, out of casing
1 red onion, diced
4 cloves garlic, crushed
1 – 15 oz. can pizza sauce
1/2 c. roasted red peppers
1/4 c. extra virgin olive oil
Handful of fresh basil leaves
1 bag baby spinach leaves
3 zucchini, sliced into long strips
A dozen or so cremini mushrooms, sliced thinly
1 small butternut squash
Method:
1.  Preheat your oven to 400 degrees.  While the oven heats, crumble the sausage into a saute pan over medium heat and brown it with onions and garlic.  Saute for 7-10 minutes, or until the sausage is cooked through and the onions are translucent.  Meanwhile, peel your squash.  Split it into halves and remove seeds and strings.  Using a mandolin or potato peeler, slice the butternut squash into very thin strips.  Be sure to keep the strips as long and noodle-like as possible.
2.  Prepare your sauce by pureeing the pizza sauce, red peppers, olive oil and basil in a food processor or blender.
3.  Put your lasagna together!  Lightly cover the bottom of a 9×9 baking dish with sauce to prevent ingredients from sticking.  Next, begin layering squash, sausage mixture, mushrooms, spinach, zucchini and sauce.  Repeat until all your ingredients are used up.  There should be enough squash and sauce to cover the top of your lasagna.
4.  Bake for 45 minutes, or until lasagna is crispy and brown on top.  The lasagna may be a bit liquid straight out of the over, so let it sit for 15-30 minutes before cutting into it.
Prep time: 20 minutes
Total time: 80 minutes
Serves: 4-6 people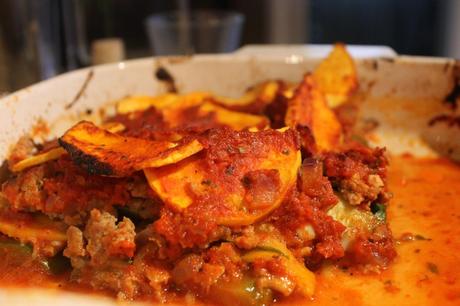 *This is a terrible picture! Will repost a better one next time I whip this up.