Being allergic to tomatoes means finding pizza recipes can be a bit of a trial, all too often white pizzas can be a bit heavy, overly cheese or (particularly if pesto is used) way too greasy. Franco Manca has satisifed my craving for a fresh, lighter, summery topping, but I wanted something a bit more 'dirty', something that wouldn't make me feel left out when eating next to my sister's double pepperoni.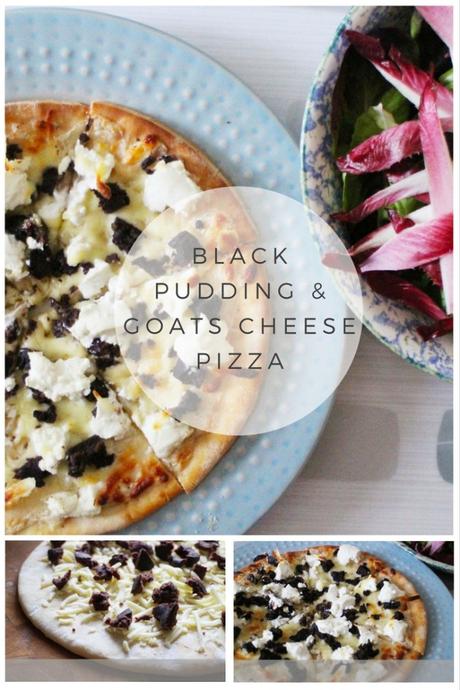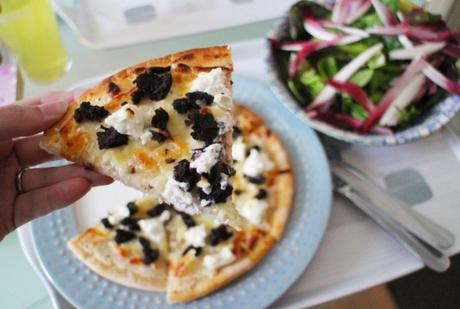 And this is it. This, guys, is my new favorite pizza. It's meaty, it's carby, it tastes
properly bad for you
. It's exactly what a pizza should be. Made on a proper base (none of the
faffing around with cauliflower
!) it is the perfect pizza for sitting in front of a movie – we first made this whilst attempting to watch all the Harry Potters in a weekend. We failed, but had fun trying! It also goes really, really well with a good side salad. Crispy leaves, fresh spinach, crunch red chicory, these all cut through the richness well. The chicory was a bit of a revelation for me, actually, now I can't get enough of the stuff. It seems to make my salads just a little more autumnal, something I'm loving right now. I'm still torn between lighter summery food, and bowls of comforting stodge. Give me a few weeks and I'll be addicted to stew and dumplings again…
Back to the pizza! Yes, it's rich, but not overwelmingly so. Using creme fraiche as a base keeps it fresh, and the black pudding has just the right level of crispiness to give it an extra texture. Mozzarella gives it a classic 'pizza' feel whilst goats cheese adds both tang and compliments the 'funkiness' of the black pudding. It's meaty, slightly spicy, cheesy, indulgent. Delicious.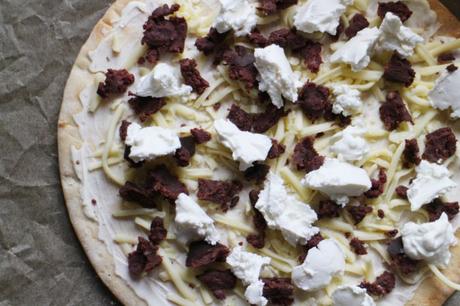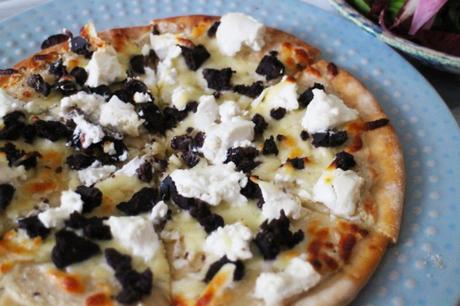 Ingredients (for 2)
2 large pizza bases
1 clove garlic, peeled and slice in half
2 large tablespoons of creme fraiche
1 pinch each black pepper and dried thyme
2 handfuls grated mozzarella
50g black pudding, skin removed and sliced
100g soft goats cheese
Rub the pizza base with the cut side of the garlic. In a small bowl, mix the creme fraiche with the pepper and thyme – add a tiny bit of olive oil to loosen if you like. Spread over the base. Scatter over the mozzerella, crumble over the black pudding (try to get the pieces small – it helps them get crispy, and slightly burnt black pudding is heavenly), dollop over small spoons of the goats cheese. Pop into a very hot (220C minimum) oven for around 10 minutes, then slice and devour. W recommends topping with chicory just after baking if you don't fancy a full salad.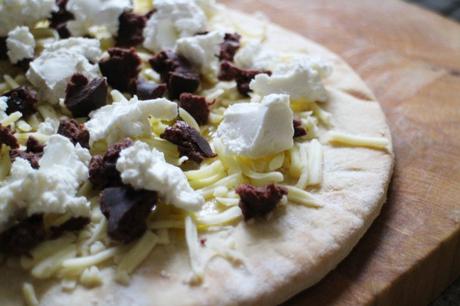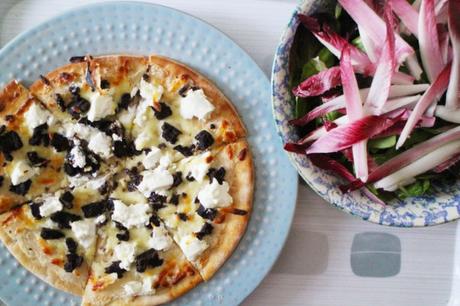 We 'cheated' here and used good quality ready-made bases. Mainly because we didn't want to disturb our movie time, but also because I tend to make my homemade bases more soft and sourdough-y and I'm not too sure that would work as well here. The crisp crunch is definitely needed! However I do have another pizza recipe coming your way soon, with my perfected base and a lighter veggie topping – so pizza fans keep your eyes peeled!
Are you a pizza lover? What's your favorite topping? I used to love a good pepperoni before my tomato allergy took hold! Ever had a white pizza?