This isn't the most attractive of dishes, I fully own up to that. It's quite possibly the pink-est thing I have ever cooked, have ever eaten. W (quite rightly, though I wasn't impressed at the time) claimed it looked at bit like brains.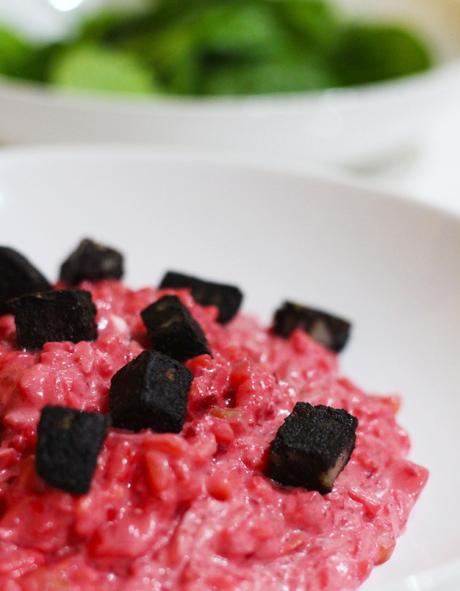 I spoke about my love for beetroot a few weeks ago (when I published my
Beetroot, Black Pudding & Goat's Cheese Salad recipe
), but here we go again. For years I shied away from it, and when I did try it I thought it tasted of soil. Not particularly offensive, but not particularly pleasant either. It's only been in the last year or so that I've actively enjoyed eating it, something I have our
engagement meal
to thank for. Now not only do I love it in it's own right, it's also absolutely essential for me in my No-mato sauces.
Now, I get that to the non-beetroot lover it's not a great vegetable. It can be bitter yet sweet, and of course it's quite an earthy taste to become acquired too. This is a recipe I would highly recommend to someone not to sure about it. Sure, the color is off-putting, but the flavor is muted by the mascapone, the texture is that of a classic risotto – very creamy. It's also pretty cheap to make, so it's been a favorite of mine over winter!
Ingredients
2 beets from a vac-pack (freeze the remaining ones – or chop and roast for scattering on the top)
1 tbsp olive oil
1 onion
1 stick of celery
1 garlic clove
150g risotto rice
Small glass of white wine, optional
Around 500ml hot vegetable stock
Handful grated Parmesan
2 tbsp mascapone – or a soft goat's cheese is excellent (and my favourite!)
Finely chop the onion, celery and garlic, then fry in the olive oil or 5-7 minutes over a low heat. Turn the heat up, stir in the rice until well coated. Pour over the white wine, then allow to evaporate whilst stirring. Add the stock gradually, a ladleful at a stir, stirring often. Keep adding stock until the rice is cooked (but still with a little bite). If you run out of stock, just use a little water.
Whizz the beetroot in a food processor to make a purée. Stir most of the Parmesan, the beetroot purée and the mascapone through the risotto. Season well, then leave to rest for 5 or so minutes. Served scatter with the remaining Parmesan. If you've roasted some beetroot, add it to the top or (as I did here) fry some cubes of black pudding to scatter over.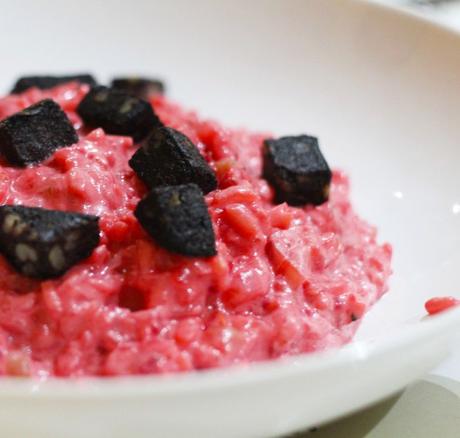 The perfect dish to begin falling in love with beetroot!
Are you a beetroot fan? What's your favorite type of risotto?