Last week, I completed my first 98% cheat-free Whole30 program.  For 30 days, I adhered to a fully Paleo and Whole30 diet, allowing for celebratory "cheats" that related directly to family traditions, significant cultural events, my best friend's birthday, and the inauguration of Barack Obama.  For me, this Whole30 was less about finding out what my food sensitivities are (I discovered that when I did my first Whole30 last summer) as it was about uncovering what life situations lead to my most troublesome eating and drinking habits.  Why do I feel like I might die if I don't eat an entire dark chocolate bar from time-to-time? Why is the post-work ritual of a beer and shot so alluring? Do I really need to drink an entire bottle of wine just because I opened it? Is it possible to avoid the basket of bread given to me at the table?  These are the questions I set out to answer.  And you know what? I did.
By nature and profession, I am an incredibly social person. I spend almost 80% of my time in front or in the middle of a crowd, eating dinners out, attending social events, or at work… where I coach individuals or help them celebrate a big night out.  I was curious if this Whole30 would inhibit my ability to be social, stay stress-free at work, help me sleep better, and be more energized throughout the day.  Here is what I discovered:
Work doesn't stress me out.  Studying doesn't stress me out. My family doesn't stress me out.  I become stressed out when my energy levels aren't optimized to help me through the day.  The solution? Sleep.  Which leads me to the second epiphany…

I do not sleep well when I have coffee after 3pm or drink more than two glasses of red wine.  In both of these scenarios, sleep is restless.  I toss and turn and wake up and am a terrible person to share a bed with. I wake up early, but can't force myself out of bed, which means that…
My performance at CrossFit and progress in marathon training hurts.  When I've slept well and fueled my body properly, I look forward to early morning workouts.  High levels of protein and fat in my diet help my body recover and adequate sleep helps my mind reset.  When I'm eating poorly and drinking excessively, I don't sleep and don't workout.  This leads to to…
High levels of stress and exhaustion that hamper my ability to coach people to better health or do my job at El Gaucho properly.  When I'm stressed out, I can't see past the end of my nose.  My thoughts become jumbled and I rely heavily on coffee and "stress relievers" like chocolate and whiskey as coping mechanisms.  I'm crabby and terrible to be around and start to flake out on business and social opportunities.
Suffice to say, every stress-eating and drinking trigger I have experienced in the past decade are related directly to the amount of sleep I earn each night and the food I choose to put in my body.  Gluten makes me sick.  Sugar tweaks me out in an Animal-from-Fraggle-Rock kind of way.  Alcohol keeps me from sleeping.  I'm not at all sensitive to high quality dairy.  Chocolate makes me feel kind of high.  Could I live by the Whole30 forever? No.  Absolutely not.  However, I can live by the Paleo diet, which is flexible enough to allow for culturally significant celebrations that allow for good ol' American food while not interfering with my day-to-day life.
Sorry if that was a little long-winded… as a reward for your diligence in reading my Whole30 recap (and my diligence in completing the freaking thing), I present you with the best paleo banana muffin recipe to have ever been made.  This is not an exaggeration.  I had to leave my house to workout in order to keep myself from eating the entire batch.  They're perfect – fluffy, chocolatey, banana-y, and crunchy (everything I think good banana bread should be).  The best part? There is no sugar, no gluten, and only take 30 minutes to make.  I borrowed the recipe from George at Civilized Caveman before dolling it up and making it my own.  I suggest you go to the store on the way home today, pick up some bananas, let them sit for a few days until they become nicely spotted, and make these immediately.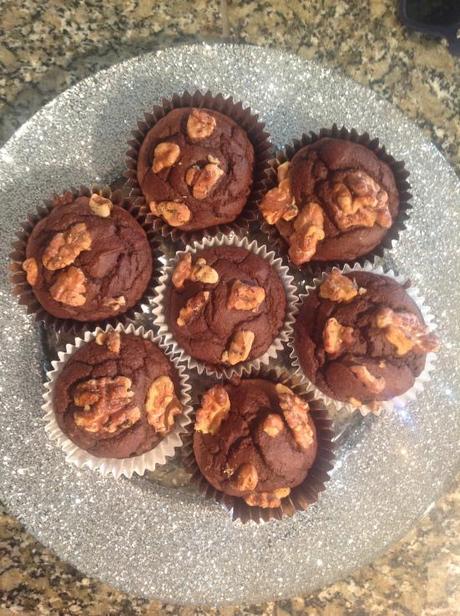 Paleo Banana-Chocolate Muffins
Ingredients:
4-5 ripe, well-spotted bananas
4 large eggs
1/2 c. unsalted, creamy almond or cashew butter
4 Tbsp. coconut oil, melted (can substitute butter if you're not sensitive to dairy)
1/2 c. coconut flour
1/2 c. unsweetened cocoa powder (I used Vahlrona cocoa powder)
1 Tbsp. cinnamon
1 tsp. baking soda
1 tsp. baking powder
1 tsp. vanilla extract
Pinch of sea salt
Optional: Handful of raw walnuts, coarsely chopped
Method:
1) Preheat your oven to 350 degrees.
2) In a food processor (or with a hand mixer), combine bananas, eggs, nut butter, and coconut oil until just-blended.  Add in the coconut flour, cocoa powder, cinnamon, baking soda, baking powder, vanilla and sea salt, mixing until all ingredients are well-combined.
3) Line small muffin tins with paper liners and pour 1/4 c. batter into each.  Top each cup with some coarsely chopped walnuts, if using (would also be delicious with coconut flakes or dark chocolate chips on top!).  Bake for 20-25 minutes, or until a toothpick inserted into the center comes out clean (both my batches finished at exactly 22 minutes).
4) Remove and allow to cool slightly before eating.  Top with nut butter or grass-fed butter and enjoy!
** If you'd like to make a loaf instead of muffins, grease a loaf pan with coconut oil spray and pour in batter.  Bake in preheated oven for 35-40 minutes.
Prep time: 5 minutes
Total time: 30 minutes
Servings: Makes 16-18 muffins, depending on how big your scoops of dough are.