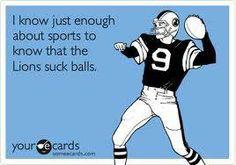 Yes, the Refs blew a single call. That is not why the Lions lost.. The Lions lost because of how bad, horrible, crappy and pathetic they played after that... Let's look at the facts. After the blown call the Lions:
1) Decided to get a Delay of Game on fourth and one (They could have done a simple dive play to get the first, extending their drive).
2) Sam Martin kicked an whopping 10 yard punt (Seriously. You get paid to kick a ball in one direction and you failed. YOU LET THE WHOLE TEAM DOWN! No literally you did).
3) Matthew Stafford Fumbles. Not once, but twice.(First one, Lions got lucky, yes lucky that they got the ball back because Lawrence was unable to protect the ball after picking it up. Giving the lions yet another chance at a game winning drive).
4) Matthew Stafford's pathetic of a pass to Calvin Johnson (Johnson's open and the best location to throw the ball was at his ankles?).
5) Matthew Stafford's second fumble. And most costly (Lions and fourth downs are not something that go together. He stayed to long in the pocket, and well, where was the attempt at a pass to anyone to get the first down).
Interesting, I count five reasons since the "blown call" in which the Lions blew the game themselves. The refs may have blown the call, yet the Lions blew the opportunity the show that they would not let their season be decided by it. They squandered the opportunity which was theirs for the taking. The Lions suck. They have for a long time. And I am happy once again that their bid to get to a Super Bowl was squashed.
Your comments are welcome. Though please keep in mind, any and all attempts to say the Lions should have won will be mocked, laughed at and shown publicly.
Thank You!