LOVE GLITTER POLISH?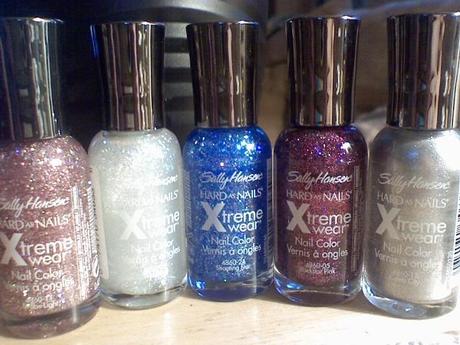 ME TOO!
HAVE A HARD TIME REMOVING IT?
ME TOO!
WELL NOT ANYMORE THOUGH BC......
I just found a genius tip to removing glitter nail polish, no more having to use a bunch of cotton balls for one nail or scrubbing at your nail like what seems to be forever or ruing your nails because of it. I just recently started really loving glitter polish, for some reason I just never paid much attention to it. I don't know why but  its totally different now. I'm pretty much obsessed, and how can you not be with all the gorgeous bright colors and how you can layer them with all different colors. Whenever I have been wearing glitter (which has been almost every week now) I really dread removing it every week. So just like I do with any question I have, I go to google, I typed in "how to remove glitter nail polish" and a bunch of links came up. The first one I clicked on happened to be 
Pink Sith's Blog
 and she has this really interesting technique to removing glitter easily. I had to try it and it worked!! Ahhh!! now I can sleep better at night lol. I'm sure you've heard me complain about this before so I knew I wanted to share this with you. First off before I show you the step by step process I have to say thank you and give credit to Pink Sith.com for posting this, and click 
here to read her post!
  Here is everything you need and instructions:
WHAT YOU NEED:
Nail Polish Remover
Cotton balls or cotton rounds
Regular Tin Foil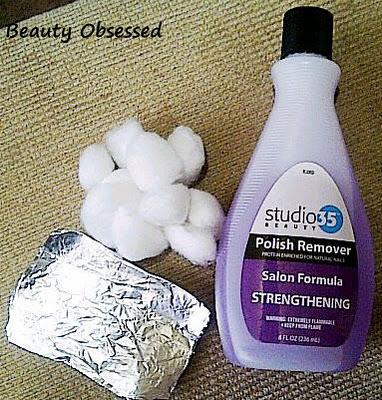 Instructions:
STEP 1:  
After you have what you need, cut a big piece of tin foil into 10 pieces. I just cut it large enough for it to be able to fit around my whole finger. (you want to make sure its long & big enough to be able to properly fit over most of your fingers without falling off)
S
TEP 2:  
I found it was easier to do one hand at a time but if you want you can do both. Take a cotton round or ball and soak it in nail polish remover. I like to make sure its saturated so I don't need to repeat this process. Then place it on your nail with a little pressure so it wont fall off as soon as you move your finger.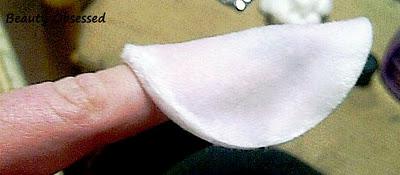 STEP 3:  
With the cotton round still on your nail, take a piece of foil and wrap it around the whole cotton round. Then fold the ends of the foil so it's tightly secured and there's no gaps between the foil and your skin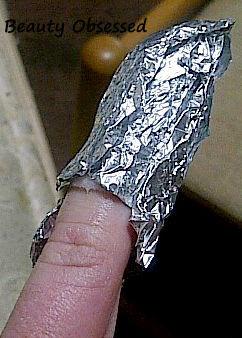 STEP 4:
Do step 3 to each one of your nails. I would leave them on for at least 5 minutes depending on how much glitter is on your nails. I ended up leaving mine on for 6 minutes. I only had one coat of glitter on.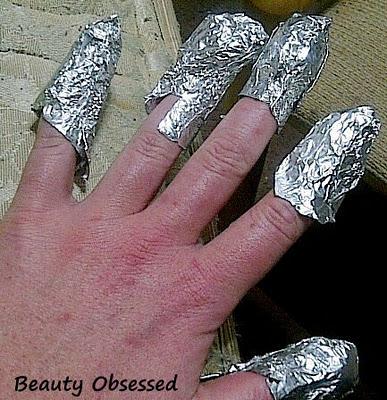 LOL!! This is a nice look!
STEP 5:
When its time to remove the foil, take each one off and while your doing that concentrate on swiping the cotton and foil against the nail. (like you were taking off your polish normally)
Ready for the Results??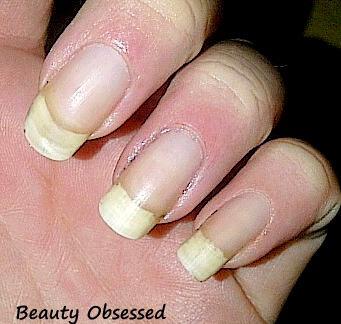 WOW!!! I still cant believe how easy that was and how it removed the polish from the whole nail. If you look closely there are a few little specs of polish left, but I'm not complaining at all :) You're probably wondering why tin foil, right? Well, I guess the foil wrapped around the nails helps to keep the cotton soaked in nail polish remover to stay wet against your nail and that's the reason it's good to keep it on for at least 5 minutes. Makes sense, right?
So have any of you ever heard of this trick before? Also, let me know if you try it!!
Click the links below :)
Follow my blog via GFC
Follow me on Twitter