I've really been trying to get into using brushes more often, than just my fingers. I have to say Real Techniques is one of the best brands for brushes that have great quality. I was excited to try the Travel Essentials set from Real Techniques.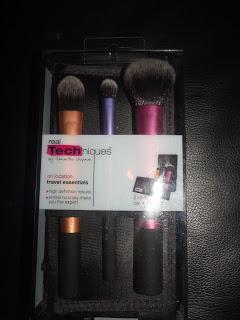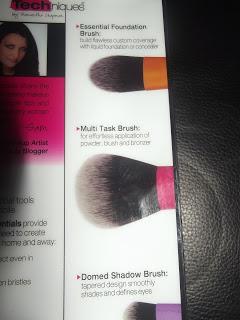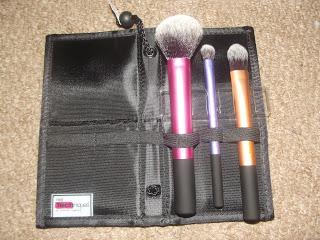 The travel set comes with 3 brushes, in a handy case to keep them all together. The case can be set up so that it is a stand. I like the fact that there is additional space to add more brushes with them.
Overall, all the brushes are so soft and the bristles are perfect for use with your face.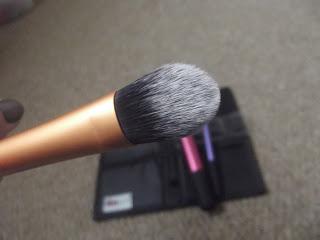 Essential Foundation Brush - this brush is meant to build flawless custom coverage with liquid foundation or concealer. I've been using this brush for the last 5 days to apply both my foundation and concealer, and it's safe to say it works so well. I've been using the foundation on my hand and then using the brush to apply it. The bristles are soft on my face, and it leaves an amazing finish.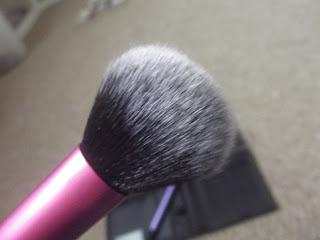 Multi Task Brush - for effortless application of powder, blush and bronzer. I've been using this alongside the Foundation Brush, for my blush and powder. For my blush, it really picks up the powder and applies a good amount to my cheeks. It doesn't over apply, but leaves it looking flawless. I've really loved using it with my powder as well, it's a perfect size for sweeping across my face and gives a nice amount of powder to set my make up.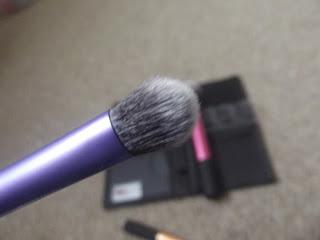 Domed Shadow Brush - tapered design smoothly shades and defines eyes. This brush has been perfect for me for blending in my eye shadow on my eyes. It gives great definition of my colours, and really finishes the eye look perfectly. I love the shade of it, it's perfect to use.
Overall - I really love this set, it is the perfect travel essentials. It has all the basic brushes needed to complete a look. With editions of another Real Techniques brush, I have used just these three for all my looks this week. I think they take the looks to the next level, for application.
Costs - It retails at £20.99* and is available in Boots and online at Love Make Up, and Amazon (where it is on offer for £17.34).
I would definitely recommending you guys picking this up, for you everyday make up looks.
Thank you for reading!