I've been saving up my Boots points for about a month or more and finally managed to buy the
Real Techniques Starter Set by Samantha Chapman
a couple of days ago
.
 I talk about the Real Techniques brushes all the time and how good they are. I hope to own the whole line one day but that won't be for a long time as I need to get saving again on my Boots card!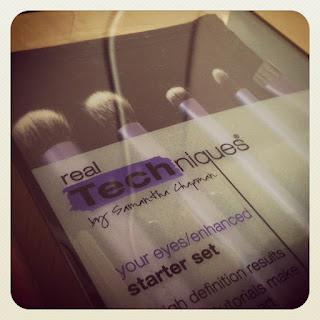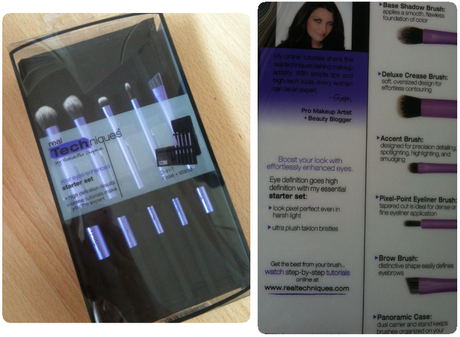 The brushes I picked up are the eye shadow ones. One the box it says
"Your eyes/enhanced"
and contain 5 brushes. A base shadow brush, deluxe crease brush, accent brush, pixel-point eyeliner brush and a brow brush. On the back of the box, as shown in the picture above, it describes the brush and what to use it for. It also says on the sides of the brushes what each brush is called which is quite handy.The brushes are so soft! I just used them as a quick tester and I am really pleased with them. The good thing about brushes is that you can use them for any purpose you like, you don't just have to stick what they were designed for. I've seen Samantha Chapman use the base shadow brush to apply concealer under her eyes sometimes when doing a YouTube video. But the best thing, like I said is that all the brushes from this line are so so soft. After using them really quickly, the shading brush is really good for adding product in the crease of the eye as it's just the perfect shape. And the deluxe crease brush is brilliant to blend with as it's quite big. I used the eyeliner brush and it was quite easy to work with although it's quite a  thick brush for eye-liner but I'll just keep practising with it.
They are so easy to clean as well. Because they are white on the ends, you can see properly when the brush is clean and when there's still some product left on it. And another good point about cleaning the brushes is that the purple stem of the brush is really long. When cleaning regular brushes, the metal part is usually quite short and you have to be really careful in order for it to not get wet as it loosens the glue and this lessens your brush life. However, since the stem on these brushes are really long, it will make cleaning them so much easier and should, technically, make them last longer.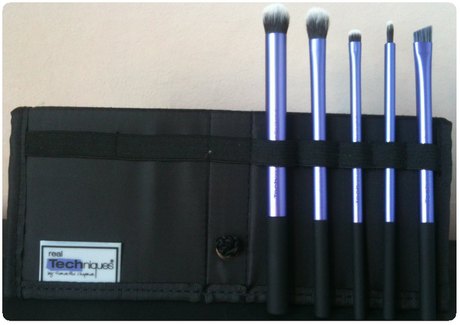 Another great thing about them is that they come in a case. As you see above you can pull the draw-string tight to form this stand, or just have the draw-string loose and close it to create a case. I don't know whether to make room in my brush pot or keep them in the case and just stand it in-front? What do you think I should do?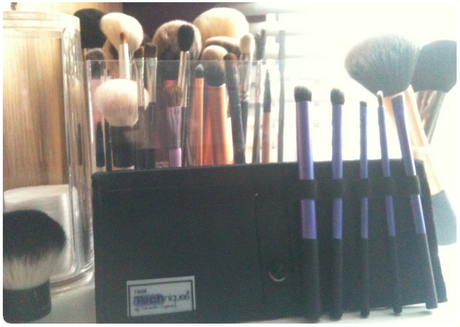 These brushes retail at
£21.99 from Boots stores in the UK
and for 5 brushes, I think that's an incredible price! Have you tried these brushes? What do you think of them?