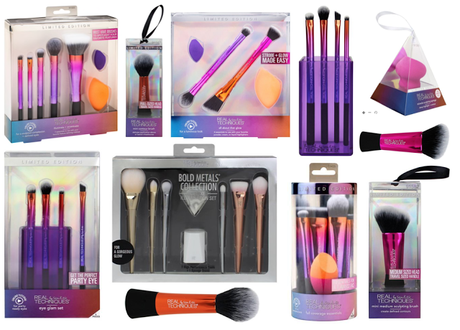 I have got to admit, the gift sets from Real Techniques this year look incredible, I definitely want to pick up a few of these for myself and for gifts! Real Techniques brushes are great quality on a budget and I always recommend them so why not treat yourself! 
Holiday Eye Set £16: Comes with four brushes to get your eyes party ready! Also, comes with a purple brush pot to keep all your brushes in one place. 
Mini Contour Brush £6: A travel-sized handle with a full sized brush head to contour above and below the cheekbones. 
Mini Medium Sculpting Brush £6: Another travel sized handle brush, I have to get my hands on this! 
Miracle Sculpting Sponge Bauble £6: A handy brush housed in a triangular bauble, ready to hang on the tree. 
Illuminate + Accentuate Set £40 (Now £30): A seven-piece set including five brushes and two sponges. 
Full Coverage Essentials Set £30 (Now £24): Comes with four brand new cuts for full coverage application as well as a sponge. 
All About That Glow £25 (Now £15): Includes all the tools for highlighting with your favorite liquid, powders or creams. Comes with two double-ended brushes and two sponges. 
Bold Metals Deluxe Illumination £100: I have a feeling this might be a star gift, so we will have to wait and see! Comes with six brushes, a sponge and a sponge stand.
Bold Metals Eye & Lips Set £30: Includes three brushes, one of them is brand new and a brush cup that fits the full nine brush collection.

I love the brushes from this collection with the ombre handles, they are really upped their game! I like that there isn't any brush duplicates in the sets so if you did buy a few of them you aren't going to end up with doubles. All of the ones at Boots are on the 3 for 2 Christmas Gifts offer so you can get a pretty good deal if you are going to do some Christmas shopping or treating yourself!