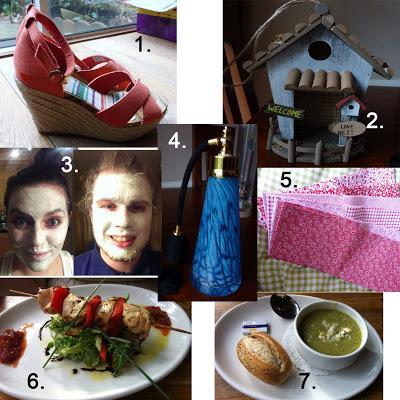 1.
Rocketdog Wedges
 - T K Maxx (but can also get them from 

Zalando

)
2. Bird House Love Nest - T K Maxx
3. 

Wild Strawberry 

and 

Rosemary&Witch-Hazel

 flavour Face Masks - 

Boots
4. Perfume Atomiser - T K Maxx
5. Fat Quarter Bundle - 

Hobbycraft
6. & 7. - 
The Beechwood
So this week me and Kingsley have been together for 2 years. 2 years isn't long in grown-up terms but when you've been together since you're 16 those 2 years make a huge difference! I'm excited about the future as I know we could manage many many many more 2 years to come, after all one day I want a curly haired, Aryan brood.
Number 1 are my gorgeous new Rocket Dog raffia wedges. They're Orange and have stripy insides and wooden toes, Kingsley bought them for me and I'm really impressed at his choice! I can't wait to wear them in Spring and Summer, especially as were booking a holiday soon. 
Number 2 is my new bird's home that Kingsley also bought me! I'm a little obsessed with the birds in my garden and am constantly watching them, feeding them and cooing over them, I think he's come to realize that birdy things are a good way to my heart, I'm a crazy bird lady. It only really started once we had various birds nests growing right down by the patio windows and would always check on the babies. Especially when one year we had left our Christmas tree out in the garden, ready to chuck out; mom dragged it down ready to cut up and put out the front, but a nest dropped out of it onto the floor, along with 5 small speckled eggs which rolled out across the grass, mommy bird was still inside the tree, refusing to surrender her babies! My mom felt awful, she cried. We hadn't realised that we had made a perfect, giant nesting tree for them. The mommy bird eventually flew away which left us with time to try and save the eggs. We repositioned the tree, placed the nest carefully back in and put a carrier bag over our hands to gently collect up the tiny eggs - so that the mommy bird would not smell us (not before my brother got the wrong idea and picked them up with his hands and dropped them into the carrier bag like an Easter Egg hunt! - he is 15 by the way, not 5). We repositioned the eggs back into the nest and left some bird feed around the tree, hoping to coax mom back. We waited around and after a couple of hours, mom returned to realize everything was back to normal and she went back to her nest. A week or so later 4 of the eggs hatched - 1 didn't :-(. But It worked! We did well considering the way they dropped, they were more likely to be scrambled eggs than fledglings. However; they hatched, and grew, and eventually left the nest and pranced round the garden, then flew off, and came to visit for food from time to time. 
So this is why I like the birds, and this cute little nest, will provide me with hours of entertainment. 
Number 3 maybe slightly worrying to some of you, but I am thoroughly aware that Kingsley is at one with his feminine side, who needs girls when you have a girly sleepover and a boyfriend rolled into one?! (Complete with films, food, chocolate, wine and skincare). These face masks are really good though and cheap too. The Strawberry one smells good enough to eat and was good for my skin as it was delicate and I have quite sensitive skin. The Rosemary and Witch Hazel one was ideal for Kings as it was deep cleansing and good for clearing out his pores - sorry.
Number 4 is a Perfume Atomiser that was also from Kingsley! I had been looking for one everywhere but none of them were quite right; either TOO vintagey and expensive, or not classic enough. This one is just lovely and again he did a corker at picking one for me! I love the blue swirly glass and the tall shape. In case you were wondering, my smells are 

Chanel

, 
Miss Dior
and 

Diesel

.
Number 5 are the quarters of red patterned material that I am using to make a patchwork skirt! I thought a simple high waist, A-line skirt in patchwork patterns would look pretty in Spring/Summer, but I didn't realize how long it would take me! I love girly skirts in the warmer months, they're easy to wear and look good with flats or heels, plus I am not much of a seamstress and this is an easy place to start. It's a simple method of stitching together 5" squares of material in the order you wish, to create rows, and then stitching together the rows to then make effectively a large piece of patchwork fabric to then make the skirt pattern with. I say easy but [watch this space]. 
Being the spoilt girl that I am, Kingsley took me out for lunch on Sunday and that is what 6 and 7 are, our starters before we ate a huge Sunday Roast. I read an 

article

 on the Daily Mail today about 'Hipsters' forever taking photographs of what they are eating, I now fit into this 'Hipster' food photography category. Number 6 was mine and it was a honey, lemon chicken and pepper skewer with salad and salsa. Number 7 was Kingsley's Broccoli and Stilton soup (or Groccoli as the waitress was convinced it was called).
We also went to Pizza Express on Tuesday night as they had a 

25% off

 the bill and I looovvvveee Pizza! I was soo stuffed after eating 3 courses, but thoroughly satisfied. Kingsley had all the cheeses on a Pizza, which was very smelly and very brown coloured without any signs of nutrients - just how he likes it. I had the spicy sausage one with mozzarella, rocket, pesto and loveliness. For pud I had one of those mini puddings with a coffee; mine was Mascarpone, Figs and a Wine/Cinammon sauce. Kingsley had a big Chocolate Sundae thing. 
All in all it's been a great week where I've been spoilt to death, this weekend is looking up as were going to the Rugby game with hospitality dinner and then Sunday we are trying for (no not a baby) attempt two at visiting a car boot sale for some serious bargain grabbing!