Again, another frugal food recipe. Last week we were looking for things to cook for tea which were quick, filling and still cheap. And also I have recently been reading Antonio Carluccio's website (we are eagerly awaiting his new series, due in April, since it was produced by a friend and we've had a sneaky peak of some behind the scenes pictures). I came across his recipe for carbonara which is very simple, and most importantly authentic.
I've made carbonara before, or what I thought was carbonara, but the real thing doesn't have any cream, or mushrooms - like those supermarket versions have.
I forgot to print the recipe out, but thankfully we had a similar recipe in the Rick Stein Mediterranean Escapes book, so I decided to use that. The recipes do differ slightly, Carluccio uses wine, while Stein's doesn't. The use of garlic differs, and Stein also adds parsley. I have no idea which is more authentic, but both are clear on one thing. There is no cream. Don't even think about adding it.
The Stein recipe was for 4, but had 3 eggs, and I'm not about to start dividing up eggs somehow, so we kind of reduced it all by a third, and felt like pigs as we ate. We didn't opt for the suggested pancetta, but used some smoked streaky bacon which we had in the fridge.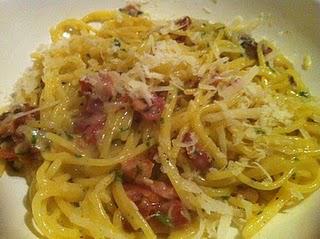 Carbonara
The final dish was lovely. Very very tasty. In my opinion, it had the right use of garlic - fried with the bacon, and all it needed was a grinding of black pepper. Cream could make it feel more luxurious, but there really was no need at all.
For information, here is the recipe, taken directly from the book.
400g dried spaghetti
175g piece smoked pancetta, rind removed
2 tbsp extra virgin olive oil
3 garlic cloves
Handful of flat-leaf parsley leaves, finely chopped
3 large eggs, beaten
50g finely grated pecorino sardo marutro
Salt and freshly ground black pepper
1. Bring 4.5 lites of water to the boil in a large saucepan with 8 teaspoons salt. Add the spaghetti and cook for 9 minutes or until al dente.
2. Meanwhile, cut the pancetta into lardons, about 6 mm wide. Heat a large, deep frying pan over a medium-high heat, add the oil and the pancetta and allow it to fry until lightly golden. Add the garlic and parsley and cook for a few seconds, then remove from the heat and set to one side.
3. Drain the spaghetti well, tip into the frying pan with the pancetta, garlic and parsley, add the beaten eggs and half the grated pecorino cheese and toss together well. Season to taste with a little salt and black pepper. The heat from the spaghetti will be sufficient to partly cook the egg but still leave it moist and creamy. Take to the table and serve in warmed pasta bowls, sprinkled with the rest of the cheese.