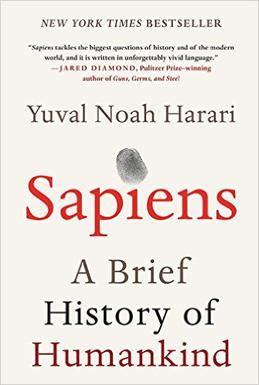 "I think that's the longest I've seen you take to read a book," said John the other day. 
I've been pecking away at this weighty (in both senses of the word) tome for weeks now. The ideas are so big that it works best for me to read a bit, usually after breakfast,  and have the rest of the day to digest what I've read before moving on to the next bite.
Well, what would you expect from a book subtitled A Brief History of Humankind? 
There's a lot of ground to cover--a hundred thousand years, give or take--during which Homo sapiens--that's us--emerged as the dominant life form, sending into oblivion the other humans such as Neanderthals and Denisovans, along with an appalling toll of animal species. 
Harari traces the path of this juggernaut Sapiens through prehistory and history, arguing that it was the evolution of imagination that allowed Sapiens to cooperate with one another, to believe in intangibles like gods, nations, and money and, ultimately human rights.
It's a fascinating look at where we've been and how we got where we are. It also provides some sobering questions about our future (as if we didn't already have enough.)
One of many books I also read, almost like a palate cleanser while I was consuming the banquet of Sapiens, was Elizabeth Gilbert's Pilgrims. A collection of excellent short stories about modern day Sapiens, each story is a microcosm of the human condition--the imagination and the capability for cooperation (for good or evil) that got us where we are today. 
I found myself thinking, as I often have, how much truth there is in fiction.