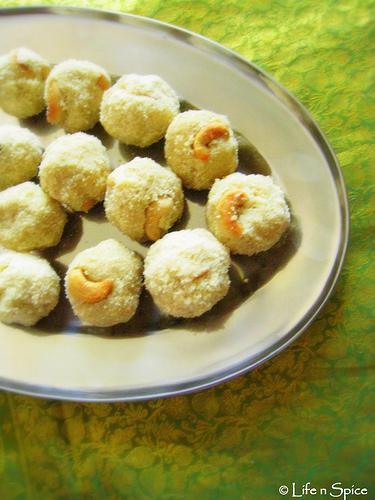 Candles of Hope are burning Bright,
Filling our hearts
With eternal delight
Hope, joy, prosperity
and health
Wishing you happiness
& Peace
Happy Diwali!

This has been and still is the favorite time of the year for me and will always be. The excitement and fun as kids when we used to get our yearly package of fire crackers and new clothes and all those home made sweets and savories prepared with so much love are still fresh in my memory!
And today as we prepare for tomorrow's traditional oil bath which will commence at the crack of dawn, I wanted to post the recipe for a very simple yet the most exotic piece of bliss, the rava laddu.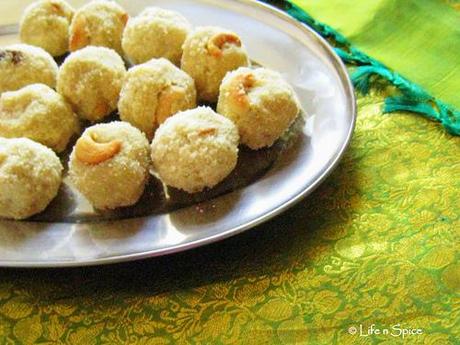 Rava Laddus or Laadu as we call it in my mother tongue Kannada are sweet semolina balls with raisins and cashews and flavored with cardamom and saffron. The cashews and raisins fried in home-made ghee give the roasted semolina the ever so perfect flavor.
I tried to recreate my mother's recipe today but I was not very happy with the shape of the Laddus. As much as I tried I could not get those perfectly rounded Laddus!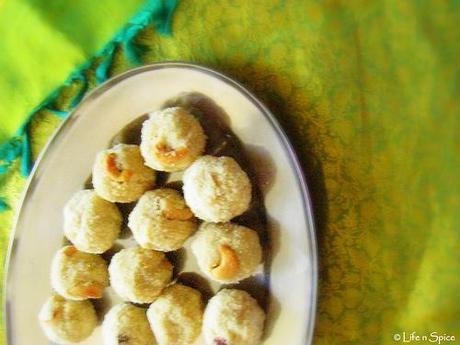 This delicious platter of Laddus is going to the events: Diwali - Festival of Lights and Serve it series - Festival Potluck.

Ingredients:
1 cup fine semolina
1 cup sugar
1/2 cup water
1/4 cup ghee
4-5 cardamom pods, powdered
a few saffron strands
handful of cashews and raisins
Recipe:
Heat 1 tsp ghee in a pan. Lightly roast the cashews till they turn golden brown and set aside. Add the raisins to the same ghee and fry till they puff slightly. Take them out and set aside.
To the same pan, add the rest of the ghee. Roast the semolina in the ghee on a low flame till the color changes to golden brown and a nice aroma comes out. Set aside.
Melt the sugar in water in a pan. Heat gently and keep stirring till the sugar syrup attains a one-string consistency. This means, when you lift the spoon from the syrup, the syrup must drop in a single sticky strand.
Now take off the heat and stir in the roasted semolina slowly without forming lumps.
Stir in the cardamom powder, cashews and raisins.
Allow the mixture to cool a bit. When still warm, take a handful of mixture into greased hands and form small balls.
Time Required: 30 minutes
Yields: 20 laddus
Don't miss a post. Subscribe to Life n Spice by email!