Paal kesari is exactly the rava kesari,where in here the rava(cream of wheat/sooji) is cooked in milk instead of water.This makes the kesari extremely rich and tasty and it almost tastes like some milk sweet.The other day when I had to make kesari for a function at home,I made this instead of normal kesari and it turned out really well.I did not take step wise pics as I was running short of time.Any how the procedure is same as rava kesari,you just have to use milk instead of water.I used tutti-fruti for garnishing instead of nuts and that added a lovely color to the kesari.Here is the recipe I followed,lemme know what you think :)
Paal kesari recipeStar ingredients:Rava and milk
Time:30 minutes
Serves:3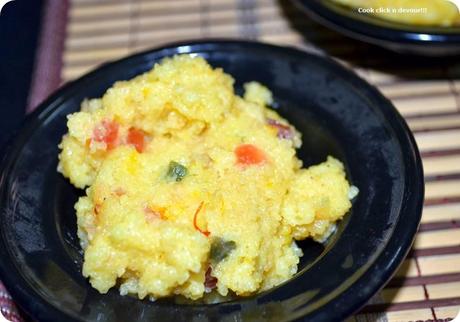 Ingredients:
1 cup rava
3 cups milk
3/4 cup sugar
3 tablespoons ghee
4 cardamoms crushed
Few saffron strands
Tutti frutti for garnishing
Method:
1.Heat a heavy bottomd pan and 1 teaspoon ghee.Roast rava till nice aroma wafts out.Remove to a plate
2.In the same pan add the milk and bring to a boil.Now add rava little by little,stirring continuously.Mix well so that there are no lumps.Simmer for 5-7 minutes till all the milk is absorbed.
3.Now add sugar and mix well,keep stirring till dissolved.Now add the ghee and mix well.Cook for 5 more minutes.
4.Add cardamom powder,tutti frutti and mix well.Serve hot
Notes
1.The ratio for milk and rava should be 1:1.5(More than water in normal kesari).This is because milk is quickly absorbed by rava.
2.Same way for sugar also,here we have to add enough to sweeten the milk too.If you add normal amount like 1/2 cup,kesari will be bland.
3.Keep stirring continuously as this cooks really fast.
4.Best to serve hot when it is still glossy and little semi fluid.If serving late,just add some really hot milk and stir well before serving.