Ever since I made rasgulla at home,I have been wanting to try rasmalai.I never knew making rasgulla would be that easy before I tried and I was able to prepare good rasgullas I knew making rasmalai will be really easy.Rasmalai is sinful rich Bengali treat where soft and juicy rasgullas are simmered in thickened sweetened milk and the result is...absolutely irresistible rasmalai. It is a sheer bliss to taste a perfectly made rasmalai and tryst me you will loose your count when you start gobbling :). Recently I tried this and I am really happy I did.It was such a treat :). I used condensed milk along with milk,I am not sure if they use condensed milk in authentic version but we liked this very much.I made around 12 and it was all gone in minutes :). If you don't have the time to make rasgullas from scratch at home you can use store bought ones too.But home made ones are way better in softness and taste.Go ahead and make this for your next party/special occasion and your guests will be pleased.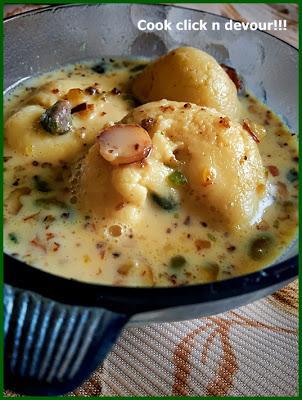 Rasmalai recipe
Star ingredients : Rasgullas and thickened sweetened milk
Time:40 minutes
Yield:12 rasmalais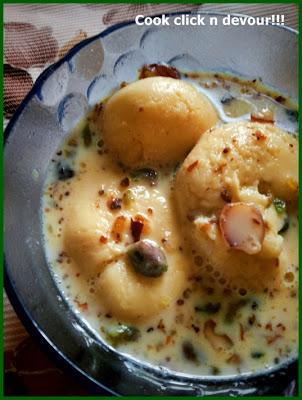 Ingredients:
12 rasgullas 
2 cups full fat milk
3 tablespoons sweetened condensed milk
3/4 cup sugar
3 tablespoons assorted nuts broken into small pieces
2 teaspoons kesar badam mix (optional,I used this as I was out of saffron)
1/4 teaspoon ghee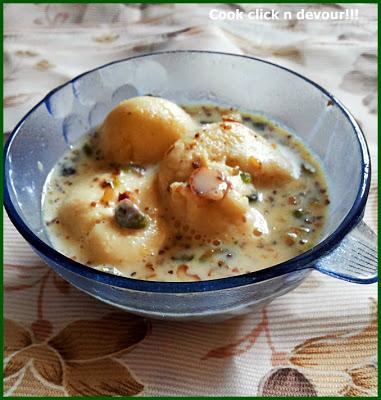 Method:
1.Remove the rasgullas from sugar syrup and squeeze the juice as much as you can.Keep aside.Roast the assorted in 1/4teaspoon ghee.Keep aside.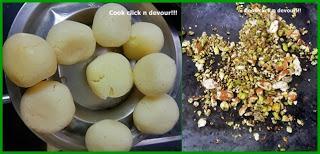 2.In a wide vessel mix milk,condensed milk and sugar.Heat on medium flame and bring to a boil.
3.Next add the keasr badam mix(if using) or crushed cardamom and mix well.Now keep the flame in low and stir the milk every now and then scrapping the walls.The milm should reduce 1/2 to its original quantity.
4.After about 10  minutes add the roasted to the simmering milk and mix well.Stir well.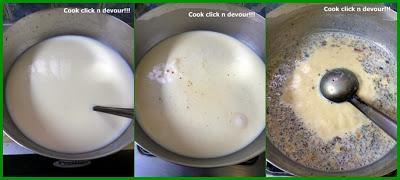 5.After milk has reduced to half of its volume(which should take about 25 minutes) add the rasgullas 2 at a time,do not stir just turn once or twice gently.Simmer for 10 minutes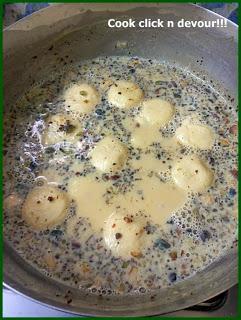 6.Switch off the flame and allow to cool thoroughly.Refrigerate till serving.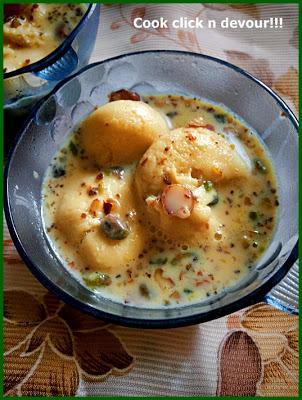 Serving:
Take 2 or 3 rasmalais in a bowl,add required qnatity of rabri and serve chilled.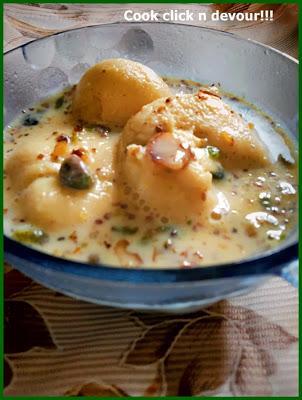 Notes:
1.You can fry the nuts in more ghees if you need.
2.Instead of kesar badam mix you can use saffron infused milk to get the color and flavor.
3.If using store bought rasgullas do not squeeze much as they tend to break