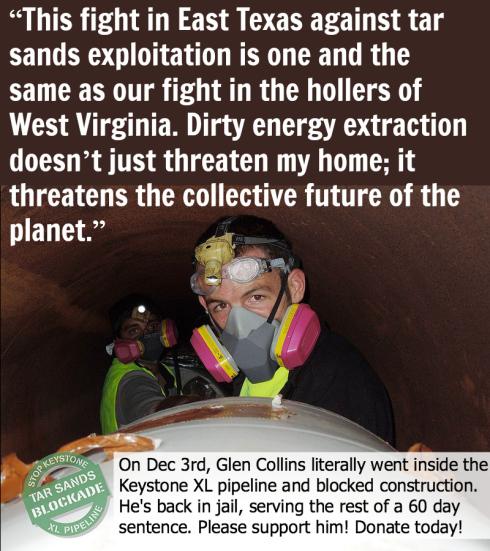 by Earth First! Newswire
Glen Collins is in Smith County Jail in Texas tonight after pleading guilty to charges of trespassing and illegal dumping stemming from his blockade of the Keystone XL pipeline last December.  In one of the most striking actions in the Tar Sands Blockade campaign, Glen locked himself with Matt Almonte to a concrete barrel inside the KXL pipeline.  He was sentenced to 60 days in jail – the longest sentence of the three activists arrested that day.  We are currently waiting to find out how the 3 weeks Glen spent in jail following his action will be counted against his sentence.  Due to the overwhelming weirdness of the Texas legal system, it's uncertain how much time he has left to serve.
Glen has checked in from jail and is doing fine as far as jail goes.  We are supporting him in every way we can from up here in WV.  To help support Glen, please donate to the RAMPS general fund which we are using to pay for collect calls from jail, commissary and sending him books to help pass the time.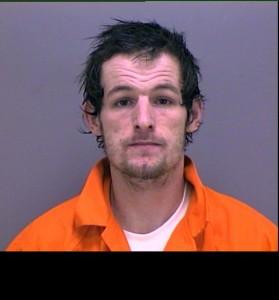 Glen Collins Mugshot from Smith County Jail, TX
Glen took action in Texas as a part of our deep commitment to true solidarity, made of action, not words, across all struggles against extraction.  As he said at the time, "I'm barricading this pipe with Tar Sands Blockade today to say loud and clear to the extraction industry that our communities and the resources we depend on for survival are not collateral damage.  This fight in East Texas against tar sands exploitation is one and the same as our fight in the hollers of West Virginia. Dirty energy extraction doesn't just threaten my home; it threatens the collective future of the planet."