BOOK REVIEW : RAMAYANA-THE GAME OF LIFESHATTERED DREAMS

Title
: Ramayana: The Game of Life: Shattered Dreams (Book 2)
Author
: Shubha Vilas
Publisher
: Jaico Publishing House
ISBN
: 978-81-8495-531-6
Number of Pages
: 387
Price
: 350 [INR]
Genre
: Mythology
Anup Jalota ,Mahesh Jethmalani ,Shrinivas Dempo and Namita Gokhle highly recommend this book and speak about the authors adroitness in writing a tale that has been retold innumerable times.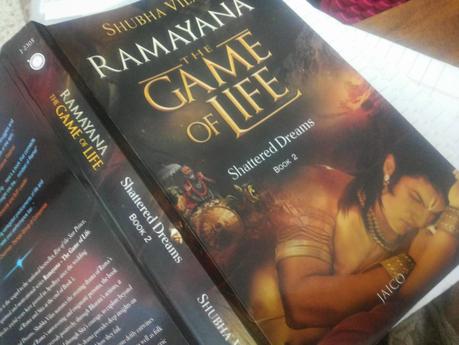 Review. 
At the onset I need to state that I am not overtly religious.
I have faith.
Faith that is unshakable.
Belief in the almighty along with gratitude for all that is good or bad in my life.
I have my share of criticisms for what I have not received what I believed should've been due to me.
Hubby dear is an atheist, with supreme belief in the forces of nature.
Sweet Child seems to be following his footsteps.
For us as a family , the virtuosity of the holy Indian epics of the Ramayana and the Mahabharat is just that.
A tale of two families with a lot of mumbo jumbo and magic thrown in.
How else do you explain 100 children born to a single woman with a gestation of 2 years.
Anyways, I got hooked to Indian Mythology recently, with the market having copious amount of authors telling their version of Indian Religious history.
Ramayana, Shattered Dreams is a piece of that too.
From all that I have read and watched and heard about Ram and Sita and Dashratha ,the book seems to be factually correct to the T.
The language is lucid and the words seem flowing from Shubha Vilas's pen very easily to recreate the epic into portions.
He has managed to evoke an image akin to what we as children saw every Sunday morning...
Or maybe Arun Govil has spoilt it for all those who are to play Ram...
Lakshmana is portrayed to be aggressive and servile, expressing veneration towards his elder brother. That is the way it should have been , but what I haven't understood is why it was so easy for Sita to accompany Ram ,but  Urmila was destined to sleep 14 years away from her spouse.
When I signed up for this book review, I thought this book would be about something yet unknown to me. I somehow have this thing against repetition,not wanting to reread what I already know.
Maybe I have been reading too much Mythological fiction.  So I was a little disappointed when the story progressed along familiar lines.
A story runs parallel in the mind if it os gripping, but there were far too many interruptions on each page here.
Super scripted numbers upon Super scripted numbers and explanations on the page that broke the concentration and story line. Barely half the page runs the story and then t here are the explanations in a smaller font that dominate the bottom half.
If those words were just dictionary meanings, they would not have broken the train of thought.  There are full on explanations with examples related to life in smaller font.
It is almost like reading a book for your college exams.
Then there were the preachy sermons on life ,why Keikeyi fell prey to Manthara's machinations and why Dashratha was helpless in front of his promises to her.
The only thing I learnt from this book was that Dashratha had 350 wives other than the three that are generally portrayed.
In this book Ram seems genuinely relieved that Bharata would be taking over the mantle of the king...His only regret seems to be the distress caused to his father and mother and also the citizens of Ayodhya.
So I am a little confused as to why the book is called Shattered Dreams.
I understand the Game of Life, however Shattered Dreams was not really true to the story, because Ram's has newer avenues to venture to ,his dreams will never shatter.
The narrative is fairly adroit and pacy ,but extremely preachy- 'holier than Thou'. That goes totally against the grain of Ram being Homme extraordinaire. 
The book is certainly not for someone wanting to read something new.
It is a simple retelling of an epic in detail and a lot of soulful words written about life and how to handle them .
What I really liked was the expression of love between Ram and Sita . Along with his unwavering beliefs. He is a man of character.
I liked the mention of the 6 Anarthas and the Management Mantras and also the Life Lessons or "Sutras".
I may read this book again but will certainly pass it on and recommend it to those a little less cynical than me .
I can't rate this book more than 2/5.


This review is a part of the biggest 

Book Review Program 

for 

Indian Bloggers.

 Participate now to get free books!