I had interviewed the controversial brothers of television,  Raghu Ram and Rajiv Lakshman on the set of Delhi Auditions when I was in class 11th which should be my first experience on anything closer to an interview but looking back how I was utterly nervous and excited at the same time while I stood there alongside my team trying to settle in the fact that this is real completely disrupts my definition of an interview.
I interviewed 
Yasser Usman
 three years later in what I would call as my first actual attempt at taking interviews. I had the pleasure to be talking to him in the
Jaipur Literature Festival 2015
. Just after exchanging a couple of e-mails, I realized how humble he is. During the entire interview session, he was warm, friendly and open to all sorts of questions. I would really like to thank him for making me feel such at ease on my first official interview taking session. I will have to post the interview in parts because the actual interview is too long and seems longer on text.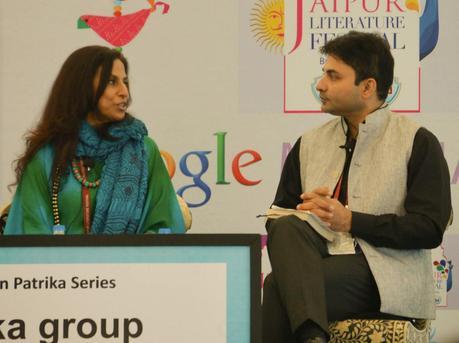 Yasser Usman in conversation with Shoba De at the JLF 2015
Yasser Usman is an award winner journalist and is currently working in the ABP news (formerly Star News). He has also been a founder member of India's first Iranian film club. His first book 
Rajesh Khanna: The untold story of India's first superstar
 talks about a side of Rajesh Khanna, no one has seen.
Read further as we discuss more about his life and the book...
Sakshi Raina:
In almost all of your 'about me' sections, you call yourself a journalist by tribe, a television producer by creed and a film critic by caste and I found out this to be quite interesting. Why such precise distinctions?
Yasser Usman:
 I'm a journalist by profession and a T.V producer, that is my job. My passion lies in cinema, Hindi films basically. So I'm a film critic and that is my passion. I have to earn a living by being a journalist.
Sakshi Raina:
So do you always wanted to become a journalist?
Yasser Usman:
 I basically wanted to become a writer and everyone told me that you can't earn money by being a writer in India. Still I wanted the profession to be remotely related to writing.
So they said "
why don't you do a course in mass communication?
"
and then I said "
How will it help
?" ,
they replied "
You can explore the avenues, explore writing, journalism, film making
."
So, everything is connected. This is how I got into the institute of mass communication.
I did some freelancing, wrote some scripts and finally I said that "okay, I will have to work to earn a living. I don't have a solid background in terms of money" and it's very important. So, I joined news channels and this is how I came into journalism.
Initially, I was not allowed to do any film reporting or anything related to cinemas. I made some documentaries and made shows on politics, crime and finally after working in these channels for 5-6 years, they finally understood that my passion lies in cinema so they gave me shows which were very close to cinema and this is how it all connected. So that's why I call myself a journalist by profession and... it all just connected. It's just a way to describe myself.
Sakshi Raina:
What are your plans for your next book? Will it be celeb related?
Yasser Usman:
There are so many ideas. 
I want to write a political thriller
, if you ask me. I don't know if the publishers would allow that. I want to write a non fiction political thriller. You know, something like which is true and yet has some thriller elements in it and there are some stories in my mind. I don't know if I can discuss about it, that is one thing and something related to cinema, definitely in the Bollywood industry. But it won't be a celeb or a fashion based thing.
I don't see my first book as a celeb based biography. No.
Definitely Rajesh Khanna was a celebrity. 
He was a superstar!
 The book doesn't deal with that superstar issue. It is about how success destroys a person. So it can be about anyone. The name could be Sakshi Raina, his name could be Yasser Usman also. He is just a character for me and the story was very important.
You belong to the generation where you don't know much about Rajesh Khanna but even I do not belong to his generation. Like I said, the story found me. I was in Bombay shooting some other documentary when he passed away. So, I got a call from my editor and he asked me to make a documentary on him as he just passed away and he was the biggest superstar, India had ever seen. I started my journey on this documentary and met a lot of people who were close to him during his superstar days and after he was living in a relative obscurity.
What impressed me were the crazy fans of Rajesh Khanna. Almost everyone that I met asked me "
What will you write about him? You don't know anything about him. You're so young. You haven't seen his era. He was a god to us.
" This made me even more curious. What was so special about him? and what was all this devotion all about? I have seen superstars. We have Salman Khan, Shahrukh Khan, Amitabh Bacchan.
Sakshi Raina:
You just cannot compare these with Rajesh Khanna.
Yasser Usman:
 Exactly. You cannot compare. Everyone told me. I did my research, read from newspapers and magazines. He was much, much bigger. 
He is the only genuine rock star India has ever produced.
 You can compare his popularity with the rock stars of the west. I also met people who were very close to him and they told me about his personal life. That's why I call my book as the untold story. What I knew about Rajesh Khanna was very different than what came out finally. 
It is a story of how success destroys a person and how you can never get away with your past. 
It is a very emotional story.
The next part would be out tomorrow. Stay tuned!
Also read:
Ella Berthoud on Bibliotherapy: Interview
Follow me on: Twitter | Facebook | Google+ | Bloglovin | Instagram | Subscribe through E-mail