It was a fine sunny afternoon when I was driving through Delhi: traffic, horns, chaos until the colors dawned upon me slowly, gradually and I had to stop to marvel at the beautiful art that would become India's first ever open public art district.
Whattt? Yes, it's the Lodhi Art District.
St+Art India took upon themselves to paint the walls with amazing colorful murals that depicts a story, a revolution in the streets of Lodhi Colony which is now a benchmark for the rest of the India.
Let me be your guide and take you on a virtual tour to some of my favorite murals:
Vishvaroopa by Inkbrushnme: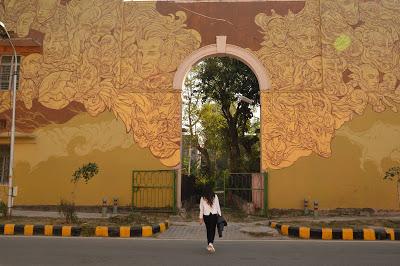 This wall depicts the beginning of the 18 day battle of Mahabharata (an Indian epic) when Lord Krishna manifest into a form called Vishvaroopa. This wall shows the many forms of Lord Vishnu.
Dead Dahlias by Amitabh Kumar: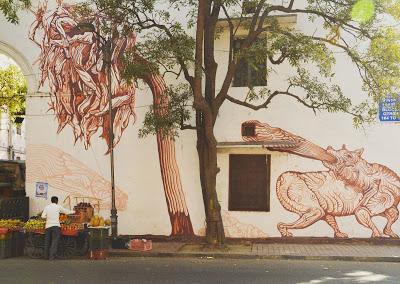 In the words of Amitabh Kumar, "This city is made up of magic, which is now crumbling apart. Through this intervention I would like the viewer to catch its crumbling pieces and vanish."
Katha-Crazy Twins by Harsh Raman: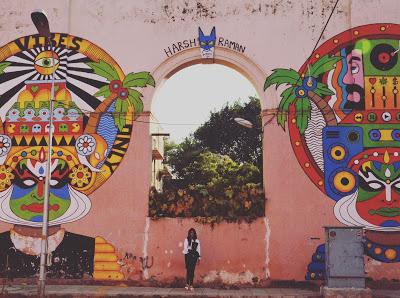 This wall tries to showcase two different generations, cultures trying to coexist in harmony. Where on the left, there is the ancient Indian art form Kathakali (a dance which showcases a story), the latter depicts the younger form of storytelling (mainly street arts, music).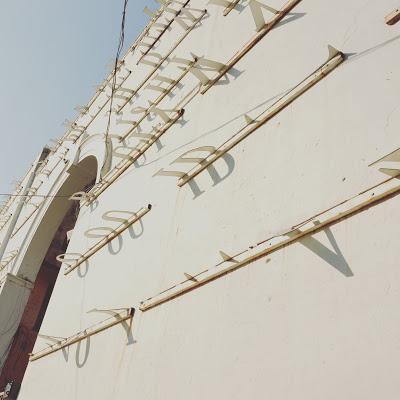 This is one of the coolest wall simply because of it's uniqueness. This is the epitome of shadow play which is best visible during 9:30 - 14:30 hrs. The sun when directly casts its shadow on the letters, displays a beautiful poem on the wall.
We love Delhi by Lek, Somat and Hanif Kureshi: 
A post shared by Sakshi Raina (@capturesunshyne) on Dec 23, 2017 at 6:56am PST
This is the most popular amongst the all and I think its because it resonates with the people. Delhi has a different worlds living in it all living in perfect harmony with one another and despite everything, the Delhiites love their city. 
The one thing that really stood out for me in all of these paintings were how modern art was tastefully mixed with the local traditions and cultures. It's like storytelling that is localised and yet can be understood by everyone.
I also feel that these paintings have opened up a whole new dimension of art in Delhi. It filled up colors to the everyday mundane life and showcases people what art is capable of. It's no surprise, after the successful launch in the Lodhi Colony, these paintings have sprung up in various parts of the city including the metro stations.
If you're an art lover or not, you would appreciate these murals. Give it a try if you're in and around Delhi.
Have wanderlust? Will travel:
Read about my adventures in Kuala Lumpur
Also visit with me The biggest handicrafts fair in the world in SurajKund
or
what I learned in my road trip
Connect with me on: 
Twitter
 | 
Google+
 | 
Bloglovin
 | 
Instagram | 
Facebook