As I sit and listen to the rain fall against my windowpane, it only seemed appropriate to put together a collection of rainy day essentials.  While the saying goes, "April showers bring May flowers, I'm willing to bet we will still get a fair amount of rain this spring.  These pieces help to embrace the stormy weather while we wait for brighter days.
-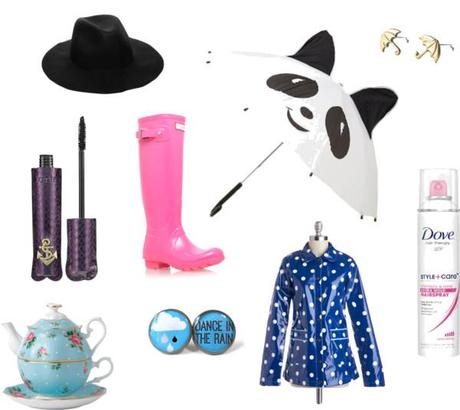 -
1.  Wide Brim Hat: ASOS - To cover your head on those days when it's sprinkling or when it's too windy for your umbrella.2.  Umbrella Studs:
Etsy
 - Embrace the rainy day with these adorable studs.3.  Panda Umbrella: ModCloth - I mean, is this not the cutest umbrella you have ever seen?!  I need this.4.  Waterproof Mascara: Tarte - Because running mascara is not a good look.4.  Rainboots: Hunter - Rainboots are a must in the city, and these bright pink ones boost my mood on a rainy day.5.  Hairspray : Dove - For those frizzy fly-aways, because we all know rain equals a bad hair day.6.  Teapot: Occa Home - The most adorable vintage teapot, because there is nothing like a cup of hot tea while you watch the rain fall.7.  Rain Earrings:
Etsy
 - Remember when we were kids and we used to splash through the puddles and get excited about the rain? These earrings bring me back to that place. 8.  Raincoat: ModCloth - Who says you can't look cute in the rain?  The polka dot raincoat is fabulous!
-
Happy Rainy Thursday!
-
XO,
-
Gina
-Wide B