I received this book for free from the publisher in exchange for an honest review. This does not affect my opinion of the book nor the content of my review.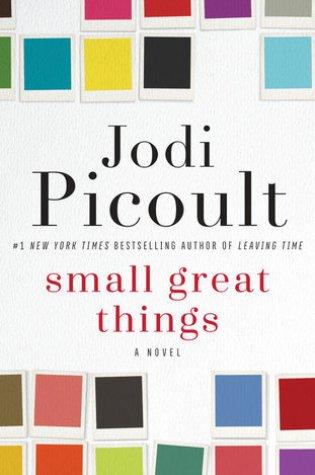 Small Great Things

by Jodi Picoult
Published by Ballantine Books on October 11th 2016
Genres: Contemporary, Fiction
Pages: 480
Source: complimentary review copy
Amazon / Barnes & Noble
Goodreads

You say you don't see color…but that's all you see. You're so hyperaware of it, and of trying to look like you aren't prejudiced, you can't even understand that when you say race doesn't matter all I hear is you dismissing what I've felt, what I've lived, what it's like to be put down because of the color of my skin.
Jodi Picoult never fails to deliver a novel that makes us think, makes us consider what we would do, how we would respond. It's my favorite kind of book: the one that teaches me about myself and my community.
Small Great Things is the story of Ruth Jefferson, a labor and delivery nurse for twenty years. She's been a stellar employee and nurse and raised an honor student alone after her husband died serving in Afghanistan. By all appearances, Ruth is a model citizen and a genuinely great nurse. She is also African American.
Why does this matter?
It doesn't. Except to Turk and Brittany, white supremacists who object to Ruth being the nurse for their newborn baby, Davis.
When circumstances arise that leave Ruth watching over Davis, the baby stops breathing, codes and ultimately dies.
I imagine you can guess what happens next.
Ruth is charged with murdering the baby as revenge.
Small Great Things is told in three alternating voices: Ruth, Turk, father of Davis and white supremacist, and Kennedy, the white public defender assigned to represent Ruth.
Each character is fully developed with a thorough back story. Reading how Turk came to be so filled with hate was a lesson in humanity. Kennedy thought she was not racist because she "didn't see color.". Her passion for social justice and winning Ruth's case was a lesson in humanity. Which was more important: winning or compassionately understanding another person?
Compassionate novel of white privilege and racism by @jodipicoult
While the book is not without flaws, a few passages and actions seemed outside of reality, but, then again, isn't that why we read? as an escape of reality?  Ambiguous endings are not a favorite for me and Picoult has been known to have a few those. Small Great Things gives us a shocking, yet also neatly wrapped ending. I think I've read every Jodi Picoult book, and while Leaving Time will probably always be my favorite, Small Great Things is a close second. It is relevant, a mirror for today's society and told with depth and compassion.
*Many thanks to NetGalley and Ballantine Books for the review copy.