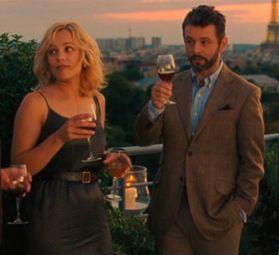 Rachel McAdams and Michael Sheen in a scene from Midnight in Paris. (Photo: Sony Pictures Classics)
-Sad news: Rachel McAdams and Michael Sheen are going their separate ways after two years together. (True story: I was once on a date at an artsy film and they sat next to me and I totally eavesdropped on their post-film convo because they were saying really deep, insightful things about the movie, while I had no clue what the hell I just saw. So thank you, guys, for making me sound like I totally understood the symbolic meaning of characters who wore animal masks and screamed at the moon…)
-Speaking of stars who just went through a split, Michelle Williams looks anything but sad in this kicky lil' Victoria Beckham number. Her follow-up outfit was also good.
-Speaking of Oz the Great and Powerful stars, Marina Abramovic is making a movie about the life of James Franco. Sigh.
-Meanwhile, did you know Franco scored a cool $7 million to star in Oz? Sigh squared.
-Simmer down, Chloë Moretz!
-Is it OK to be drooly about Nicolas Hoult's photo spread in GQ? 'Cause it's all kinds of good, but I can't quite get over that he's the kid from About a Boy.
-Jennifer Aniston is getting married and she's already picked out a dress and date, which totally deserves a People cover story because no woman in the history of the world has done that ever.
-Prince William went all knight-in-shining-armour on a group of hikers.
-I am by no means a fan of celebrity photographer/professional creep Terry Richardson, but his Oscar photos don't suck.
-Ginnifer Goodwin actually wore something that I kind of love to the Vanity Fair Oscar party. The makeup is terrible, but still.
-Meanwhile, I so wish Amy Adams wore her Oscar de la Renta afterparty dress the entire night and just skipped the one she wore to the ceremony all together. Gorg!
-Zoe Saldana, however, should never have changed out of her Alexis Mabille gown for this monstrosity. Oof!
-Tina Fey just crushed our dreams by declaring that she'll never host the Oscars. Hug me.
-Madonna's camp is trying to squash rumours that she dissed Demi Moore by not inviting her to her annual Oscar bash.
-Did Liam Hemsworth make out with January Jones at a pre-Oscar party? Probably not, but everyone's throwing shade at him anyway.
-Jennifer Lawrence has apologized for forgetting to thank David O Russell and Harvey Weinstein in her Oscar speech.
-Also, check out this behind-the-scenes video of Jennifer Lawrence's Miss Dior campaign.
-Billie Joe Armstrong gave a candid interview about his decision to enter rehab.
-Mila Kunis looks like an anime character on the new cover of Marie Clarie.
-Is Stacy Keibler talking to her ex-boyfriend behind George Clooney's back? Bitch, please!
-Tom Cruise was spotted by the paps spending time with Suri in London.
-Kirsten Dunst was overheard complaining about having to wear designer clothes during Paris fashion week and kslwooiewjfjoww. (Sorry, I just started mashing my keyboard with my fists…)
-Someone threw a shoe at Harry Styles' groin during a One Direction concert. Stop that, Taylor!
-No Doubt have scraped their tour plans to record new music (possibly because their last album sucked.)
-Josh Brolin and Diane Lane's split was 'mutual,' says his papa James Brolin.
-Kristen Bell flashed her bulging baby bump to the paps.
-In other baby news, Perez Hilton is a new dad.
-Jezebel knocks it out of the park with this article on sexism fatigue (subtitled "Seth MacFarlane is a complete ass and you don't even notice.")
-Lena Dunham is standing up for Anne Hathaway while dissing Seth MacFarlane.
-Meanwhile, this fake Lena Dunham audition tape is kind of great (though it's clearly spoofing Hannah, not Lena. I think more people would like Girls if they understood the distinction.)