I just got back from Singapore aboard a comfortable flight with Singapore Airlines. Before I continue my rest, I want to give a quick update about what happened at the Marina Bay Street Circuit. Yesterday, I was reading The Straits Times inside my room at the Grand Mercure Roxy, and of course, the results of the grand prix were the top story. Read more…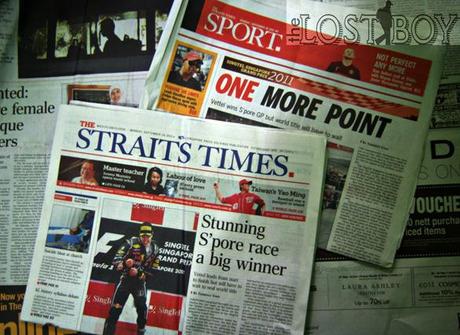 Yes, the 24-year-old Sebastian Vettel of Red Bull Racing scooped the 2011 SingTel Singapore Grand Prix. I expected such an outcome, as the night before during the qualifying, he clocked in the fastest times, thus receiving Grid 1 for the race the following night. This is besides the fact that he has been on a streak winning several grand prix already. His teammate Mark Webber was close in second on the qualifying.
Come race night on September 25, current world champion Vettel clocked in 1:59:06.757, while Jenson Button of McLaren narrowly came in second at 1.7 seconds more at 1:59:08.494. Webber was third at 1:59:36.036, and unfortunately for two-time Singapore champ Fernando Alonso of Ferrari, he could only manage to race his way at far fourth with 2:00:02.206.
Vettel's tenth win this season brings him a mere point closer to his second world championship that even before, some of his competitors, including teammate Webber, have conceded to him already. His win scored him an additional 25 points, bringing him at 309 points or 124 points ahead of the season's second placer Button. Red Bull Racing is of course leading at the constructor standings with 491 points versus McLaren at second with 353.
But the SingTel Singapore Grand Prix did not end without incident and controversy. Felipe Massa of Ferrari slams 2008 world champion Lewis Hamilton of McLaren after the latter's front wing touched the back of the former's Ferarri. Massa's right rear tyre was punctured in the process that after the race, Massa was fuming at Hamilton's "reckless driving."
That's it for now, as I need some more rest. I can't wait to tell you about my experiences covering Formula 1's "crown jewel" and only night race, the SingTel Singapore Grand Prix.