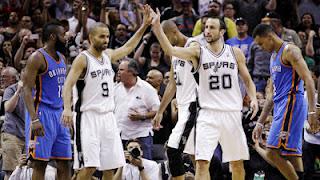 Photo: AP Images - Robert Gray
- Troy Ballard
Yowza.
Listen, I think we all knew that the San Antonio Spurs were good -- but this good?
San Antonio demolished OKC -- at one point leading by 22 -- en route to the a speedy 2-0 series lead. And yes, for those keeping track at home, this lastest triumph also pushes the Spurs to a 20th consecutive win.
When Tim Duncan, Tony Parker and Manu Ginobli are playing like a bunch of college kids playing for Coach Cal at Kentucky, there's really not much that can be done. Not only was the trio in San Antonio spectacular in all facets of the game, but each had enough highlight plays to fill the
Sportscenter Top 10
 for the next week.
Kevin Durant was able to snap his team into attention in the fourth (otherwise known as intentionally fouling Tiago Splitter), and despite being within six at one point, the chances of a comeback were still incredibly far out of reach.
Oklahoma City continued a trend we have watched all season -- the three man show. Durant, Russell Westbrook and James Harden combined for 88 points, while the rest of the team tagged along with little production. The only player worth noting outside of those three would be Serge Ibaka, who was posterized by Duncan (a
must see highlight)
, but still came within one basket of a double-double.
Really, this game is more of the same. San Antonio continues to improve as the season goes on and the Thunder continue to be exposed as lacking the true depth to contend for a championship. Nothing new, keep moving.
It would be too bold to call a sweep of Oklahoma City, because I think the Thunder will win at least one at home, but the Spurs have this series well in hand. The maximum amount of games that this will run is six, and that may even be pushing it.
Next game is in OKC on Thursday night.
Be sure to follow Beard and Stache on Twitter @BeardAndStache, and also Troy @TroyBallards, Like our Facebook page HERE!