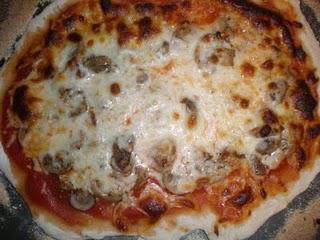 Homemade Mushroom Pizza
I love homemade pizza and am always looking for tasty, quick, and easy recipes.  I got this yummy pizza crust from a cookbook I bought while on vacation in Italy. It is called
30-Minute Italian
by Fran Warde.  I usually make a
whole wheat pizza crust
. However, I had to try this one when I realized it only uses three ingredients and the pizza crust does not use yeast. It is called Quick Pizza Base. My family loved it and my husband said it was so good he would have been happy about his purchase if we bought it at a restaurant. I have to say, I would agree. It was one of the best pizzas I have made.
preparation time
10 minutes
cooking time
about 10 minutes
makes
4 small pizzas or 1 large pizza
Ingredients:
250 g/8 oz (1 cup) self-raising flour
1 teaspoon salt
150 ml/1/4 pint (1/3 cup) warm water
Directions: 
1. Place the flour and salt in a large bowl and mix well.  Slowly add the water and mix to form a soft dough. When it has bound together, mix the dough with your hands into a ball. Turn the dough out on a lightly floured surface and knead until it is smooth and soft.
2. Divide the dough into 4 and, with your hands (flour your hands well) and a rolling pin (I did not use a rolling pin), flatten it as thinly as possible - or make one large square or circle (this is what I did). The pizza rounds do not have to be exact circles as that is one of the charms of making your own pizzas! Make the pizzas just a bit smaller than your serving plates and as thin as you can.
That is it!  Then add your toppings and bake in a preheated oven, 230
⁰
C (450
⁰
F) for approximately 10 minutes or until golden and sizzling.
I made mine simple and put tomato sauce, mushrooms, sprinkled some Italian herb seasoning, a little garlic salt, and topped with shredded mozzarella cheese.  If you want to make it more Italian-like, put sliced mozzarella cheese rather than shredded. On a hot day, serve with
Italian Ice Tea
. Guten Appetit!