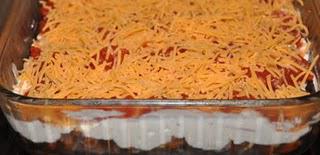 We love Mexican food. This is a quick and easy Mexican casserole recipe. I made this for our German/American church pot luck last Sunday. It's a great pot luck dish.  Since I made it the night before, I waited until the morning to put the sour cream, tomatoes, and cheese on top.  I cooked it at church on low for a little over an hour.  I left the foil on top until the last 15 minutes.  It turned out great!  It takes about 15 minutes to brown the meat and assemble and another 15 minutes to bake it.
Ingredients:
1 lbs ground beef
1 can of beans (black, pinto, or kidney)
~3 cups crushed tortilla chips (I crushed them in a zip lock bag)
~1/2 container of sour cream (start with a whole container)
1 cup diced tomatoes (you can use can or fresh)
2 cups cheese
1 jar hot sauce
Directions:
Preheat oven 350 degrees.  Crush tortilla chips and place on the bottom of a 9x13 pan.  Brown and drain ground beef, return beef to the pan.  Add the beans and hot sauce to the ground beef and cook for about 5 minutes.  Pour beef mixture over tortilla chips.  Top with sour cream, then diced tomatoes, and cover with cheese.  Bake for about 15 minutes or until cheese is melted.  Enjoy!