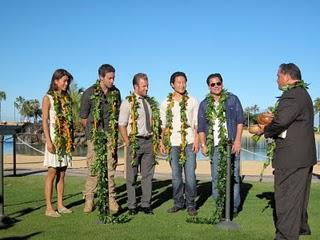 via blog.thesuburban.com
Executive Producer of Hawaii Five-0, Peter Lenkov, is a native of Chomeday, Quebec and last week he was interviewed by the online version of the local paper "The Suburban" show and it's riveting finale.
The reporter, Mike Cohen, like many fans of the original Five-O was not expecting to like the new reboot as much as he did. He talked to Lenkov about whether his intent from the beginning was to eventually show she was on "the wrong side of the law."
Lenkov told Cohen that they had liked the idea of the Governor being
"corrupt and the target of McGarrett's father's investigation. Some of the details changed over time, but the core idea remained the same."
Cohen also notes that some of the episodes were penned by Côte Saint-Luc native David Wolkove. Apparently he wrote four scripts including the second to the last episode which set up the finale and had Detective Danny Williams in peril.
"I did not get to write on the last one, which is too bad because it was awesome," he said. "I'll be back for next season, and we already have some great stories lined up."
To read more go to http://blog.thesuburban.com/search/label/Hawaii%20Five-O
Cohen plans to have another exclusive interview on Hawaii Five-0 towards the end of the summer, which I am sure we will all look forward to!