Just when I am cruising along, feeling on top of the world, the universe steps in and gives me a swift swat on the ass and seems to say, you are not invincible, you are just a a middle aged woman in training who is putting her body through hell. 
After my monstrous weekend of non-stop cycling and running, I did a long swim Monday morning followed by a short run. My back got tight during the swim, as it often does. But, overall I felt fine after the workout.
I am not sure what happened to me in the middle of the night. The devil must have visited my low back because I woke up Tuesday morning with a ton of pain. I kind of ignored it – it was a planned rest day so I knew I would have some time to recover.
But, by late afternoon I was majorly uncomfortable. I told Coach Sharpie who reminded me: "There is no possible way for you or anyone to be training for what you're doing, and how quickly you've ascended, without your back hurting (and your neck and your IT band and your butt and your quads and your hamstrings...)." She also gave me some strategies to mange the pain including Pilates types moves and stretching.
We cut out my ride for today, which was going to be a ton of climbing. She told me to still try to do my planned hour run. I got out there and there was shooting pain with each step. It didn't really feel awesome.
So, I did this instead.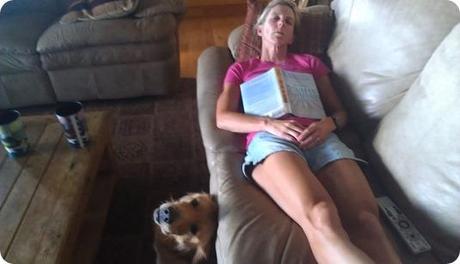 If I can't train for an Ironman today, then I'll read about training
(book = You Are An Ironman)
For some reason the worst back pain comes after I've been driving and get out of the car. I seriously look like a 83 year old woman on the way to a Bingo.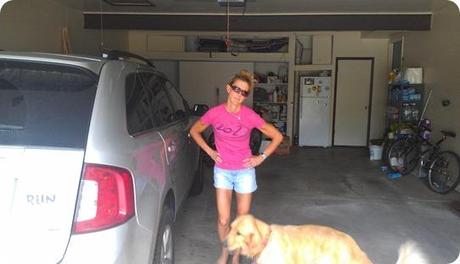 Which is much different than this 83 year old yoga instructor, Betty Calman: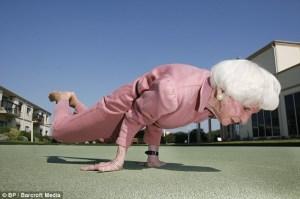 This a reminder that:
Life goes on if you miss a few training days
Your body gets pissed off when you do a lot to it
When pain comes, it's time to STOP for a bit even when you are panicking about not reaching your goal
83 year old white haired women in pant suits can still rock the house
Here's a nice outtake: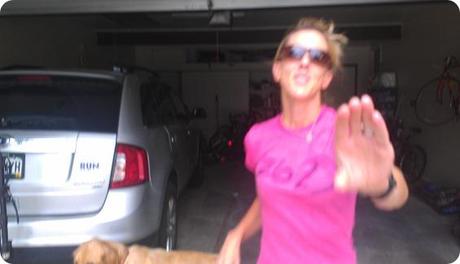 Have you ever had back pain from training and what did you do about it? I've taken some Motrin, am icing it and stretching a bit, gently. I also am going to go to PT to have it looked at.
This too shall pass (TTSFP) – I added the "F" in there if you know what I mean.
SUAR